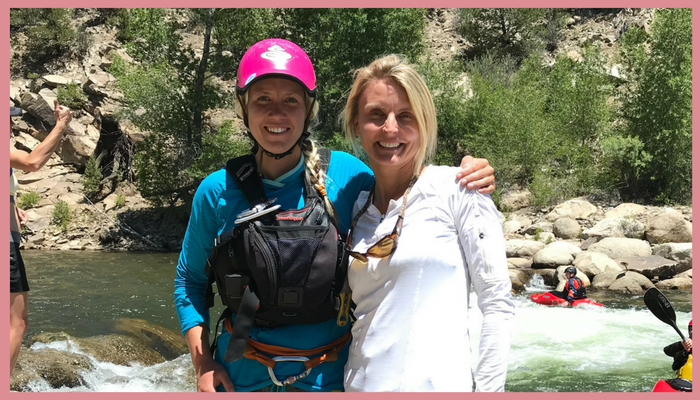 Hi Treasured One,
What was your favorite memory from this past summer?
With fall close at our heels, I am ready to wave goodbye to Summer and welcome pumpkins and butternut squash soup. While happy to see my bathing suits head to the summer clothes storage bin (anyone else but me?!?), I will gladly hold the memories from our family summer Colorado trip dearly in my mind.
Enter our two-day rafting camping trip in the Colorado wilderness rafting down the roaring Arkansas River (emphasis my trip).
When you are married to a great outdoorsman and the mother of two boys who love exploration, on vacay you either join the party of outdoor adventure or sit in the condo.
(Can I get a witness?)
As we watched the safety video detailing rafting risks (which included death BTW), I felt my stomach flutter in fear as I heard their talk,
"Make sure you listen to your guide and let them lead you. Don't worry about the rocks and the rapids, your job is to listen and follow the guide's lead, so you can live the great adventure."
Got it. Listen to the guide. As we signed our life away in the release form, I said a prayer to the Lord, the Ruler of All Nature. "Keep us alive."
Enter Erika – our guide. (She is pictured with me in the photo above).
As we began our trip down the river my soul survival mechanism of control kicked in.
While I listen to Erika give commands, in my mind I am questioning her ability and rowing cautiously. At one point I almost fell into the water. Erika must have caught wind of my fear because when my husband pulled me back into the raft she held my eyes with a reassuring look, quickly calming me with her confident voice,
"Don't worry. If you fall in I will rescue you. I know the river. I know what's ahead. Just listen and let me lead you. The best is yet to come. Now look up, enjoy the amazing scenery and keep listening to me."
Shifting my sight up, my eyes rested on beautiful snow-capped mountains. The rushing river soothed my soul as the sound echoed in my ears. My grip relaxed on the paddles and I started to smile.
Adventure ON!
Erika was nothing short of amazing. She gave us clear direction to follow as we successfully navigated around seemingly impossible obstacles of rock and rapids. I can still hear her confident call, "Forward four! Left, give me two back. Lean in."
Without rocks there would be no rapids. What I feared, she used as leverage to make us flow to our final destination. Mmmmmm
Enter Perspective Shift
Sometimes God uses life's moments to paint pictures of spiritual principals. Jesus often used parable stories from everyday life to help others capture kingdom concepts. He did this for me on that trip two-day rafting trip in Colorado.
As we paddled, I pondered on this modern-day parable the Lord was painting for me:
The adventure of abundant life is not without the absence of adversity.
As I listen to the Lord and let him lead me, adversity becomes my advantage to push me in the direction of my final destination. Resilience to bounce back into a broken world comes from resting God's leading not retreating out of life.
Enter our next Treasured Ministries Weekly Word Series. Resilience: bouncing back in a broken world. In this nine-week study you will:
Discover practical biblical principles for resilience as you walk through the entire book of 1 Peter.
Gain self-control to respond to the Holy Spirit rather than react to circumstances as you discern God's truth through the Nourish Bible Study Method. Find additional resources here.
Be encouraged by supporting resources for your journey, including our podcast.
Find community with our Treasured Tribe. The Treasured Tribe is a community of women that look to God's Word to define our identity. Join us for small group every week with our Facebook Live Message on the weekly nourish scripture. Come together live or catch the replay later.
You are God's child, and whatever happens in this crazy world of ours, you can bounce back and become the woman God created you to be.
ONWARD!
Blessings,
Aliene
---
Blog written by Aliene Thompson. Aliene Thompson is the founder of Treasured Ministries and the Author of the Nourish Bible Study Series. © 2019 Treasured Ministries.