Discover the Key to Connecting to God's Word That Transforms the Way You Live
You matter. God designed you to make a difference.

Sometimes we don't believe God has a plan for our lives because life's circumstances have spoken different words to our hearts. We are impacted by the words and actions of others. Over time, they cause a drumbeat deep within us, which starts out faint and grows into a resounding echo, eventually creating a cadence of insecurity, fear, doubt, and worry.
While we might want to trust and believe that God has a plan for our lives, the rhythm of the drumbeat pulses through us. The beat summons us to follow it, pulling us onto a different path than the one God has chosen for us.
"For God knew his people in advance, and he chose them to become like his Son, so that his Son would be the firstborn among many brothers and sisters." – Romans 8:29
The good news is that Jesus has words for us too. Words that create a new beat for us to live by – a heartbeat that brings life, joy, peace, and confidence.
"See what great love the Father has lavished on us, that we should be called children of God! And that is what we are!" – 1 John 3:1
Even though Jesus is teaching us the truth about who we are, we can still be so accustomed to hearing the old drumbeat that we may not realize how it is ever present and affects our actions.
The sound of the drum is echoed by…
Fear – Do you fear you'll never be able to walk in faith-filled freedom?
Doubt – Do you doubt God's goodness will ever manifest in your life?
Guilt – Do you still believe the lies of guilt and shame from your past, even though you know Jesus died for you?
Insecurity – Do you hear words from your past whispering in your ear that you'll never be enough?
A Woman's Spiritual Battle | Brave Hearts Are Ready for Battle
A woman's spiritual battle goes far beyond what can be seen. The enemy of your soul knows your drumbeat, and he will tempt you simply by starting that self-defeating tune and inviting you to sing along.
The deep wounds from our pasts can leave us feeling insecure and inadequate. They can speak to our souls in such a way that it drowns out the voice of Jesus.
When this happens, we naturally begin to look to other sources to measure our worth and find direction for our lives. We begin the search for something that fills our souls and gives us purpose.
Our compass gradually shifts from guiding us to our Creator to pointing us to any number of outside sources that end up creating a deeper void.
Unknowingly, we slowly stack up bricks that create walls around us so that we feel protected. These walls become thicker, and our hearts become covered by their shadows.
The enemy of your souls wants to keep that wall up, because he knows the power that has been placed in your heart – Christ. He knows your life source really comes from the Giver of Life – and if that wall were to crumble, Satan knows the difference you would make in this world. You'd begin to live the authentic, faith-filled life God created you to live.
"For I can do anything through Christ, who gives me strength." – Philippians 4:13
When you encounter Jesus, you experience perfect, agape love. He nourishes your heart with the truth about who you are because you were made for more.
That intimate relationship releases you to live freely and fearlessly. God's unconditional love, which is revealed in His Word, drives out every ounce of fear, doubt, guilt, and insecurity that the enemy uses to hold you back.
"Such love has no fear, because perfect love expels all fear. If we are afraid, it is for fear of punishment, and this shows that we have not fully experienced his perfect love." – 1 John 4:18
Jesus is speaking to your heart. Can you hear Him? He wants to nourish your heart with the truth that will change your life.

A Woman's Spiritual Journey | A Brave Heart's Journey into Truth
Perfect love doesn't control – it invites. God's agape love reaches out to you, inviting you to experience the world differently – to walk by faith in His Word through this journey of truth.
This is why Jesus taught us that His Words were essential for health of our souls.
"Jesus replied, 'I am the bread of life. Whoever comes to me will never be hungry again. Whoever believes in me will never be thirsty.'" – John 6:35
"People do not live by bread alone, but by every word that comes from the mouth of God" – Matthew 4:4
Jesus is complete food for our souls, but we must take in what He offers so that we will no longer hunger or thirst. Are you tired of trying to manufacture joy that always leaves you empty?
The Plan for Your Spiritual Journey to Freedom
Embracing Jesus' Words through faith leads to freedom.
But you need a plan for the journey.
The first step in the journey to freedom is linking your heart to His, accepting Him as your Lord and Savior. His Spirit will guide you along the journey to freedom.
"For the Lord is the Spirit, and wherever the Spirit of the Lord is, there is freedom." – 2 Corinthians 3:17
The Holy Spirit uses the Bible to confirm your direction and help you discover your purpose. Timeless biblical truths satisfy your soul and heal soul hurts.
But studying the Bible can be overwhelming and fail to make a difference without the right plan in place. You need a plan that will help you walk through scripture in a way that allows you to pause and rest when God is speaking to you. Without it, it can feel more like an obligation than a life-giving experience (John 5:39-40).
This is how we often enter into Bible studies. But the Nourish Bible Study Method is different.
Are you tired of…
Exploring Bible studies about the abundant life in Christ but not experiencing it?
Feeling disillusioned with Bible study because it seems like it's not making a difference?
Engaging in a Bible study but feeling as if something is missing because you aren't able to apply it to your life?
Opening your Bible just to close it because "studying" is daunting?
Perhaps you've crammed your shelves full of Christian self-help books, always thinking that after reading just one more, you'll find the peace you've been told is yours in Christ. This cycle can bring you back to a place of teetering faith because God's truth isn't penetrating the walls around your heart like you know it can.
Hear this: Jesus doesn't want you to just study His Word for the sake of knowledge. He wants you to rest in His Word – to be in His presence – so that you can experience joy, freedom, peace, and confidence that only comes from Him.
What Is the Nourish Bible Study Method?
The Nourish Bible Study Method isn't a formula to understand a certain scripture of passage better. Instead, it's a way to connect with Jesus to uncover the truth about who you are and the purpose for which you were created. It's a means for you to see who you are in Jesus – fully cherished, and fully changed.
It's like a lighthouse that reveals what's really there – a new creation in Christ.
Through the easy-to-follow steps, God will begin to reveal truth and write those life changing words on your hear. He will bring them to life as if they jump from the page and into your heart, breaking down the walls that have held you back and left you unable to discover your purpose.
"The Spirit gives life; the flesh counts for nothing. The words I have spoken to you – they are full of Spirit and life." – John 6:63
"All Scripture is inspired by God and is useful to teach us what is true…God uses it to prepare and equip his people to do every good work." – 2 Timothy 3:16,17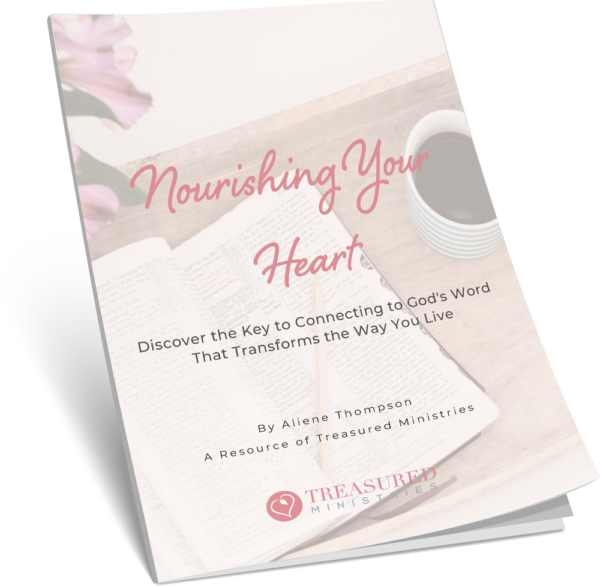 Through our FREE, downloadable e-book Nourishing Your Heart, you can check out what the Nourish Bible Study Method is all about today!
Simply sign up and it will be delivered directly to your email inbox.
Nourishing Your Heart walks you through each step of the Nourish Bible Study Method and shows you how to rely on the Holy Spirit to…
Reveal God's truth to you.
Respond to God's word.
Renew your heart with an anchor of truth.
Nourishing Your Heart also shares various paths you can take to dive deeper into God's Word – so you can continue to grow, fully embrace, and discover your purpose.
Fill out the form below to claim your FREE Nourishing Your Heart e-book
and discover the key to connecting to God's Word
that transforms the way you live.