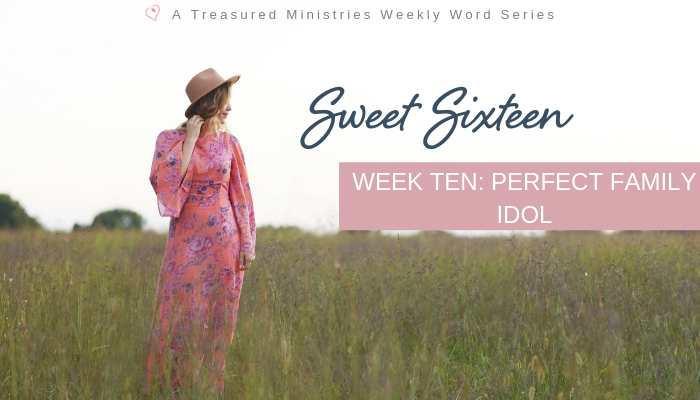 God's design for family establishes a framework that creates a place of rest, solace, and love—a refuge from the storms of life. His boundaries establish a place where we are free to make the mistakes necessary to uncover our true potential and thrive, free to become who God created us to be.
Wives are to be loved as Christ loved the church.

Husbands are to leave the nest of their mothers to create their own family, putting their wives first.

Daughters are to be valued and raised without anger through unconditional love.
This love, family love, is sacrificial. It is costly. It brings beauty.
Sadly, under the weight of a broken world, the experiences most of us have with families is fractured rather than whole, distorted rather than ideal. Every woman has an imperfect family.
While God's framework for family is perfect, we are not. The perfect family does not exist because there are no perfect people.
The Goal Should Be Perfect Love
When you see the fractures do you feel like you failed or that God failed you? Do you feel the shame that comes from using the measuring stick of having a perfect family? I did that for years until I learned this truth: my goal should be perfect love not perfect families.
Don't believe the enemy's lies that God's framework for family doesn't work.
If marriage and family have failed to satisfy your own needs or the needs of society, it was not God or his plans that failed. It was people, fallen and imperfect, who were not there to fulfill their God-given role so that you could have the security you needed. It was people, fallen and imperfect, who did not love and nurture you the way God designed you to be cared for.
Just after Paul's description of God's family framework in the book of Ephesians, he writes about the armor of God and our war with the enemy (Ephesians 5:21–6:20). This order in Scripture is no accident…
The enemy knows that there is strength in family and would love nothing more than to destroy God's design, because then he can distort our perception of our relationship with him.
But Satan's attack on family goes beyond just us; it is an attack on the gospel itself, since God's family framework communicates the reflection of his desire to have a relationship with all people.
The Marriage Relationship Reveals God's Heart
In marriage, God created a relationship like no other. It goes beyond any friendship. It is a covenant in which two lives intertwine to become one.
With the purpose of providing a reflection of the relationship between Christ and the church, the marriage relationship was designed to reveal God's heart for intimacy with us. Quoting Genesis, Jesus reminded the Pharisees who came to test him,
"But at the beginning of creation God 'made them male and female.' For this reason a man will leave his father and mother and be united to his wife, and the two will become one flesh" (Mark 10:6–8).
But even in the brokenness of our own family frameworks, the gospel message pierces through those cracks when we look to Jesus.
Redemption
Forgiveness
Adoption
Unconditional love
Stop the shame in Jesus name!
Treasured Tribe, let the fractures be the very parchment upon which Jesus writes his story of redemption, illustrating it with your life.
From our Nourish Scripture this week, we see the heart of Jesus towards women inside fractured families. Let the imperfections in your family drive you straight into the arms of the only source of perfect love—Jesus.
Our goal should not be perfect families but, rather, families and lives that reflect God's perfect love toward others within our fallen, fractured world. Could there be any greater blessing in life than that?
Nourish Scripture: Mark 10
When you encounter Jesus, you not only experience perfect love but also discover the truth about who you are meant to be. Download Nourishing Your Heart and learn how to use God's Word to discover your purpose.
---
Blog written by Aliene Thompson. Aliene Thompson is the founder of Treasured Ministries and the Author of the Nourish Bible Study Series. © 2019 Treasured Ministries.