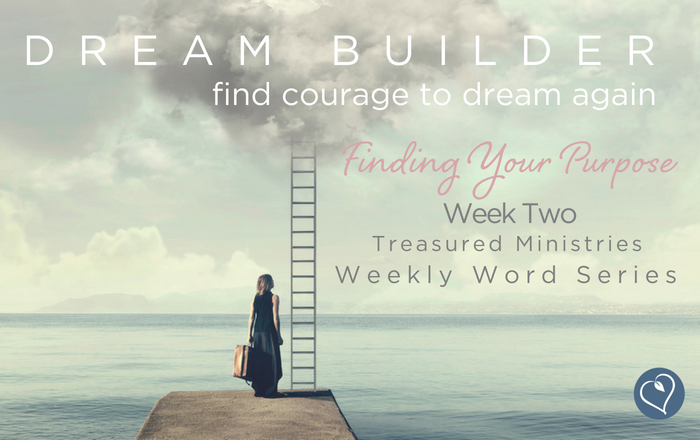 Just as God gave a dream to Joseph, God has a dream—a calling—for your life.
The Dream Builder wants every woman to walk through the door of her God-given dreams, but he may give each one a different path to follow. Sometimes when we look to another instead of the Author of our Soul, discerning our direction becomes difficult. Our breakthrough comes when we stop, listen, and follow God's leading in our lives.
That's why a personal relationship with Jesus Christ is so important: God's dream is revealed through our relationship with him.
The Door to Joseph's Dream
The door leading to Joseph's dream had actually opened many years before, when God gave a vision and spoke a promise to Joseph's great-grandfather Abraham. Joseph's dream was part of the fulfillment of his great-grandfather's dream.
Abram (later named Abraham) listened to God's voice. Because he listened, he established a nation that would be a blessing to all people. Through Abraham's descendants the Messiah would come and bring forgiveness and life to all who would join the family of faith. Although he made plenty of mistakes and missteps along the way, Abraham continued to listen to God, and God was faithful to build his dream through this man of faith.
The remarkable truth is that through faith in Christ, you are grafted into Abraham's family (Romans 11:17). Joseph's roots are not his alone—they also belong to all who believe in Jesus. You have a stake in your family heritage of faith. Part of your inheritance is the new covenant blessing of the Holy Spirit to lead you to the life you were created to live and give to others.
Through Christ Jesus, God has blessed the Gentiles with the same blessing he promised to Abraham, so that we who are believers might receive the promised Holy Spirit through faith. (Galatians 3:14)
The Holy Spirit lives inside every believer and speaks to us every day, everywhere. One primary way the Spirit speaks to us is through God's written Word, which is alive and active (Hebrews 4:12). There is a relationship between God's Word and the Holy Spirit (Ephesians 6:17; John 1:1; 2 Timothy 3:16).
Finding Your Purpose by Following the Holy Spirit
As you keep in step with the Holy Spirit, you will find the pathway to God's destiny for your life. Each step he gives you as your dream unfolds is like another thread in an unfolding tapestry of God's design. The Lord spoke to Abraham in a vision. Jesus came to earth to dwell with humanity. A blessed truth of the new covenant is that the Holy Spirit can lead us to the life we were created to live and give to others.
When Abraham listened to the Lord, the experience was life changing. When you believe God will speak to you—not just to Abram or Joseph—it will be a turning point for you too.
Moment-by-moment choices will frame your world. Whom will you allow to write your story? Take the pen and place it in the Author's hand by surrendering to his words so he can shape your soul.
You are blessed to be a blessing. God wants to plant a dream in your heart. This is your heritage; this is your future. It was Joseph's story, and it is also your story. God is a Dream Builder, and he will lead you into your unique destiny as you listen to and follow the Holy Spirit.
The devotion you read today is taken from Dream Builder: a six-week study on Joseph and the Patriarchs from the Nourish Bible Study Series. Consider Dream Builder for your next Bible Study and find the courage to dream again.
Nourish Scripture: Galatians 3:1–14
---
Blog written by Aliene Thompson. Aliene Thompson is the founder of Treasured Ministries and the Author of the Nourish Bible Study Series. © 2019 Treasured Ministries.