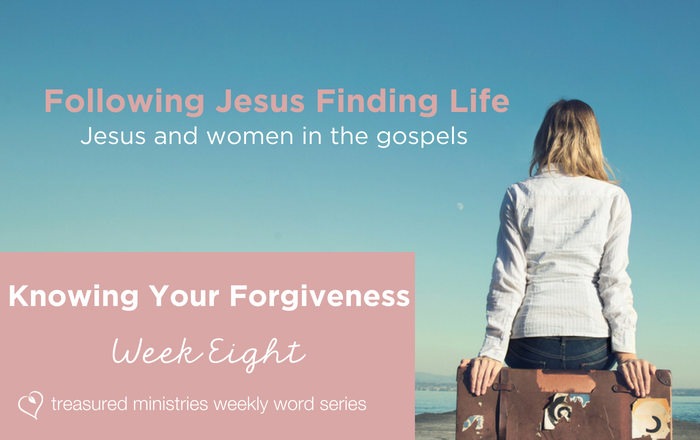 The things we feel ourselves wanting to hide from God are often times the things that should be propelling us into His presence.
What the enemy wants us to keep hidden in our hearts is defeated when we bring it to the feet of Jesus, there is victory found when our knees hit the ground at the throne of God.
The Woman Who Knelt at Jesus' Feet
In Luke 7 we find Jesus, surrounded once again by the "perfect people" of that time, yet His focus is not on those with their heads held high, it is on the precious daughter that has lowered herself in His presence.
This woman, with the reputation that proceeded her, had nothing to give, yet gave everything she could.
"A woman in that town who lived a sinful life learned that Jesus was eating at the Pharisee's house, so she came there with an alabaster jar of perfume. As she stood behind him at his feet weeping, she began to wet his feet with her tears. Then she wiped them with her hair, kissed them and poured perfume on them."
This woman, rather than running from Jesus in fear, was propelled by the darkness she carried, she was drawn to His feet and she brought with her the only thing of value she had. Her name, her reputation, her life had wasted away, she had run out of herself and so she ran to new life. She drew so close to Jesus that her hair was at His feet, and in that place of vulnerability she was not met with condemnation.
When the world around her met her act of love and devotion with judgement, Jesus was quick to affirm her in verses 41:47
"Do you see this woman? I came into your house. You did not give me any water for my feet, but she wet my feet with her tears and wiped them with her hair. You did not give me a kiss, but this woman, from the time I entered, has not stopped kissing my feet. You did not put oil on my head, but she has poured perfume on my feet. Therefore, I tell you, her many sins have been forgiven—as her great love has shown. But whoever has been forgiven little loves little."
When she drew near to Him He became her ADVOCATE, He became her DEFENDER.
It was her appreciation and acknowledgement of all her shame and all of His forgiveness that brought her to her knees, fearlessly thankful.
When we are willing to recognize just how dire of a situation our hearts were in before salvation, before Jesus, we are able to rejoice that much more in the freedom of our soul.
Call on Jesus and Cast Your Burdens at His Feet
It is the understanding of how heavy our burdens are that makes the act of casting them at the feet of Jesus so beautiful. Jesus will never be disappointed to find us at His feet, we are never unwelcome at the base of His throne, and our burdens, pain, and shame will never be left on our backs after we stand up.
May our hearts never be fooled into believing that the feet of Jesus are for the perfect, they are for everyone, they are for the weary hearts, they are for the wandering spirit, they are for the hidden pain.
Bring your heart, may the shame that binds it be the pain that propels you to call on Jesus again and again. May the still small call of the Father drown out the screaming lies that tell you to stay hidden, that tell you that you are too far gone.
The truth is, by all understanding of this world, we are too far gone, but that cross reached into the grave, into the "far gone" to pull you out. And no one can take that away from you.
Recognize forgiveness for what it is, the great pardon from death, and live as one who knows they have been pulled from the "far gone" into glorious life with Jesus.
Nourish Scripture: Luke 7:36-50
Enter into a glorious life with Jesus by finding nourishment in God's Word. Download Nourishing Your Heart to discover the key!
---
Blog written by Millicent Phillips. Millicent is part of the Treasured Ministries writing team. © 2019 Treasured Ministries.