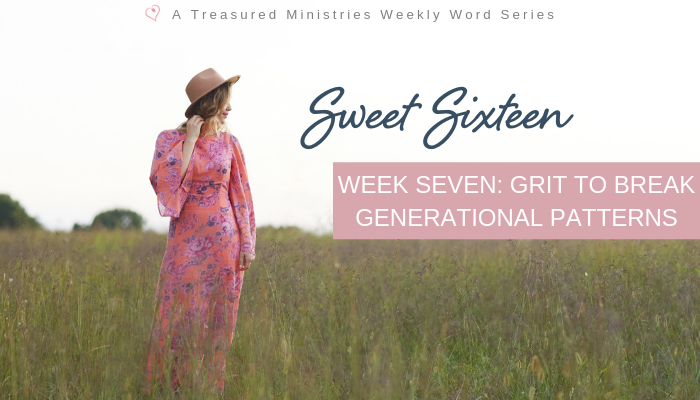 Generational patterns are not our fault, but they sure do pull us away from becoming the woman God created us to be…
Often, we stay stuck in these patterns because they are familiar and we are unaware that they even exist. Like a drumbeat creating a rhythm for our soul, our subconscious pulls us to react out of our past identity instead of responding to our current reality as a child of God.
Often we become frustrated because we try with all our might to fix our behavior instead of changing what we believe. Ahhh… but part of the privilege of becoming a child of God is that you CAN create new patterns and leave a legacy in your family for years to come.
Finding the resilience to rise up and break free from generational cycles will take grit to walk by faith in ways that go against the grain of past generations.
But one day at a time, one step at a time you can leave blessings in your wake for generations to come.
Walk by Faith
Faith requires GRIT to go beyond generational patterns to be the first to bless future generations.
Patient perseverance

Optimistic resilience

Reckless love for new life
In our Nourish Scripture this week, a Gentile woman's faith in Jesus persisted for the life of her dying daughter, and ultimately provided a catalyst for walls between Jew and Gentile to fall (Mark 7:24-29). Steadfast, immovable faith in Jesus – determined drive to find a way to partake of Perfect Love. A Gentile woman kept "outside" with bold faith gained acceptance inside the circle of eternal life, wrapped in the arms of Perfect Love.
Sometimes walking by faith means we have to leave limits of what we have lived with to walk by faith in Christ to create new legacies.
To experience abundant life, this woman on the outside would break current glass ceilings with optimistic resilience faith in the Lord and usher in a new season. At the end of her resources, her determined faith would connect with the Living Fountain from which healing and an abundant harvest for others would flow.
Women have a beautiful ability to hold onto our faith before we see the harvest because we are created to nurture.
We forge forward with bold, brave persistence that believes new life is possible when our circumstances suggest otherwise. And this patient perseverance to walk by faith is a necessary element to see the seeds of God's Word grow and create a harvest to nurture others.
"And the seeds that fell on the good soil represent honest, good-hearted people who hear God's word, cling to it, and patiently produce a huge harvest." Luke 8:15 NLT
Clinging to God's Word with determined faith brings healing to our hearts and an abundant harvest to nourish others.
Cultivate This Calling
While God calls women to nurture life, cultivating this calling is a challenge as the enemy of our soul seeks to destroy new life.
Our children struggle.
Our marriages see difficulties.
Our hearts are broken.
We face health challenges.
Disappointments seek to dilute our faith, and our brave hearts break under the weight of an imperfect world.
Where can we find the courage to cultivate optimistic resilience for reckless love?
Therefore, since we are surrounded by such a huge crowd of witnesses to the life of faith, let us strip off every weight that slows us down, especially the sin that so easily trips us up. And let us run with endurance the race God has set before us. Hebrews 12:1 NLT
Looking back at the many women before us who arose and carried hope into hopeless situations will help to bring bold faith to believe what we cannot yet see. The Gentile woman who persisted in her request is an example of great women who have gone before us to make a difference by believing in perfect love.
Patient perseverance

Optimistic resilience

Reckless love for new life
Faith is contagious. There is personal truth that only the Holy Spirit can reveal. As we daily rise up with GRIT to challenge those past patterns, we will align our thinking with our birthright. This is walking by faith.
Nourish Scripture: Mark 7
Do you want to discover the personal truth that only the Holy Spirit can reveal? Download Nourishing Your Heart and receive guidance on how to connect with God's Word to transform your life.
---
Blog written by Aliene Thompson. Aliene Thompson is the founder of Treasured Ministries and the Author of the Nourish Bible Study Series. © 2019 Treasured Ministries.