Lead a Group. Change the World.
GET YOUR FREE NOURISH TOGETHER LEADER'S GUIDE!
Find Strength in Community and Share This Gift With Others by Starting a Nourish Together Group.
Nourish Together groups are women coming together weekly to pray, connect and discover truth using a Treasured Ministries Resource. We are looking for women who want to join in our vision by leading a group.
Have you ever felt like God was calling you to start a small group but you wanted tools to equip you for your journey? Do you dream of starting a bible study where women can find healing, growth, and freedom through Christ? Would you like to press pause from life's daily duties to focus on your purpose, connect with God, and other women who share your passion?
You CAN lead others and make a difference in the lives of women. Lead with confidence and start a life-changing Bible study using a Treasured Ministries Bible Study. Find support for your journey with our FREE eBook, Nourish Together.
"Leading a group was a step out in faith for me, and the Nourish Together Ebook was invaluable.  The small group leader tips really helped me prepare to facilitate each session. Knowing I had their support was huge as I started my group."

Emily Boccia
Gain Access to Your Free Leader's Guide eBook and Get Support to Start a Small Group.

A pearl alone is a beautiful treasure. But when anchored with other treasures on a strong strand the results are extraordinary. Similarly, when women are walking by faith in Christ and fellowship with each other, we find the strength to live as God intended.

Aliene Thompson
Here's how Nourish Together Groups Work:
Build community and enrich your experience in God's Word by inviting a small group of women to study the Bible.
Use our Christ-centered framework to provide a way for women to get in the Word with proven impact with our customized Leader's Guides.
Make a difference by becoming a leader that cultivates a Christ-centered group where women can find acceptance and encouragement to live their purpose with our FREE eBook created just for leaders called Nourish Together.
"The Word of God, woven in every fiber of the workbook, is so powerful. I love the Nourish Method study approach. I started a Bible study locally and the feedback from the ladies is amazing! Several of the women have never been in a Bible study and are very encouraged to dive deeper into God's Word!"

Alice Brunk
Ready to get started? Download our free eBook Nourish Together and find all the tools you need for your journey including our step-by-step plan to get you started.
"I have led a Treasured Ministries Bible Study with 4 separate groups of women now. Each study is so rich with sound teaching and theology, mixed with down-to-earth reality that we all need a firm grasp on. I highly recommend Treasured Ministries studies to anyone looking to add a richness to their relationship with their Savior, and to grow in new ways as they dig into the Word of God for themselves."

Stephanie Ann Ferguson
Fill out the form below to claim your
FREE Nourish Together Leader's Guide
and discover how to lead a small group
using a Treasured Ministries study: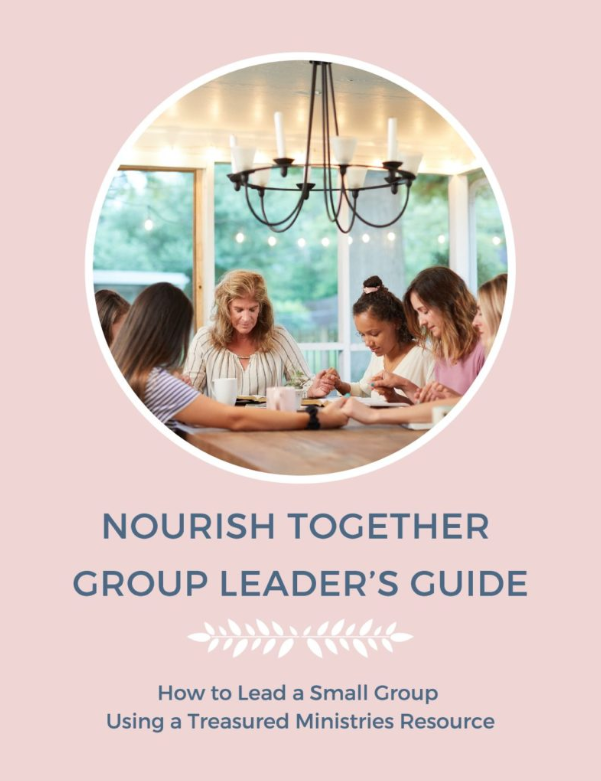 What others are saying…
"I have been participating in and leading women's Bible studies for over a decade and I have never witnessed God transform lives and build intimacy between women more than when I led a group through She Belongs to the Bridegroom."

Mallory Russell
"I feel like one of the biggest blessings about Treasured Ministries is the support that they give with their studies!"

Bekah Hines
"I have led each of the Nourish Bible Study Series in my home with a group of ladies ranging in all ages and phases of life. The weekly studies are in depth and overflowing with abundant truth based off of the Bible. Our small group has dug deep, shared their hearts and burdens with one another, and watched intently as the Holy Spirit has renewed their hearts and minds. We have been so blessed by these studies!"

Bobbi-Lee Crafts Jeselskis
"Aliene has done a phenomenal job with this study on the life of Joseph. The teaching itself is biblically grounded, culturally relevant, and immediately applicable. Combine this with the study method Aliene introduces and you have a study that will surely impact the rest of your life. I've personally heard numerous stories of God's changing power in the lives of women went through it. As a Pastor of Education in a large church and diverse congregation, I can honestly say this study will stand the test of time."

Chase Gardner, Hope Community Church