Find Purpose. Nurture Others. Cultivate Connections That Change the World.
How to Lead a Women's Bible Study and Nourish Others through Christ-Centered Connections
GET YOUR FREE NOURISH TOGETHER LEADER'S GUIDE!
You were created for a purpose. Your unique purpose brings glory to God as He empowers you to lead, nurture, and serve others well. The power He has placed in your soul changes lives, and it's the light others need to see in this dark and isolating world.
"Don't hide your light under a basket! Instead, put it on a stand and let it shine for all." -Matthew 5:15
These words, spoken by Jesus, are fire in our souls, inspiring us to step out in faith and begin a new journey – a journey that equips us to plant seeds of purpose He wants to water so they will bloom in our own lives and in the lives of others.
How does this apply to you?
You step out in faith and plant seeds of purpose by leading others to Him.
As a child of God, you understand the words Jesus spoke in Matthew 28…
"I have been given all authority in heaven and on earth. Therefore, go and make disciples of all the nations, baptizing them in the name of the Father and the Son and the Holy Spirit. Teach these new disciples to obey all the commands I have given you. And be sure of this: I am with you always, even to the end of the age." – Matthew 28:18-20
You know what you need to do, but you haven't been given a tool that you can use to "go and make disciples" in this season of your life.
You want to lead others to Christ and witness their relationship with him go from a flicker to a flame. The ripple effect of God's perfect love is endless – you've experienced it, and you want others to as well.
But without a tool that walks you through the step-by-step process of how to lead, you can feel uncertain. Yet God didn't give you a spirit of fear, but of sound mind (2 Timothy 1:7).
The feeling of uncertainty is from the enemy. God gave you the ability to lead by the power of the Holy Spirit, and as a daughter of the Most High King, it is time to step away from the scarcity mentality and into the abundance you have been given in Christ.
For Treasured Ministries, a calling was pressed upon our hearts years ago to serve women around the world who have soul hurts that need the healing hand of Jesus.
God has charged us, just like he has charged you, with the calling to "go and make disciples" and discover the key to connecting to his Word so they can live the lives they were created for.
The glorious part of God's always good and perfect plans is this – he never sends us out alone. Just like how he sent the disciples out 2 by 2, he connects us to you so that, together, our efforts are multiplied and we're able to reach even more hurting hearts and show them the perfect love of Christ!
Imagine a world of confident women who have found their purpose of nurturing others and cultivating connections that create a flame others are drawn to in this dark world.
It starts with you, Treasured One!
GET YOUR FREE NOURISH TOGETHER LEADER'S GUIDE!

Here's How to Start…
The calling can feel like a tall order, but we've created a Treasured Ministries Leader's Guide that will provide you with a framework to lead a women's Bible study effectively by using Christ-centered kingdom principles – all within the flexibility of your unique Nourish Together Group.
What Is a Nourish Together Group?
A Nourish Together Group is a small group of women who gather together every week to pray and study God's Word using a Treasured Ministries resource. The groups are designed to dive deep into the Word to find spiritual nourishment.
A pearl alone is a beautiful treasure, but when anchored with others on a strong strand, the results are extraordinary. Similarly, when women of a Nourish Together Group are walking by faith in Christ and in fellowship with each other, they find the strength to live as God intended.
Step 1. Download your free Nourish Together Leader's Guide!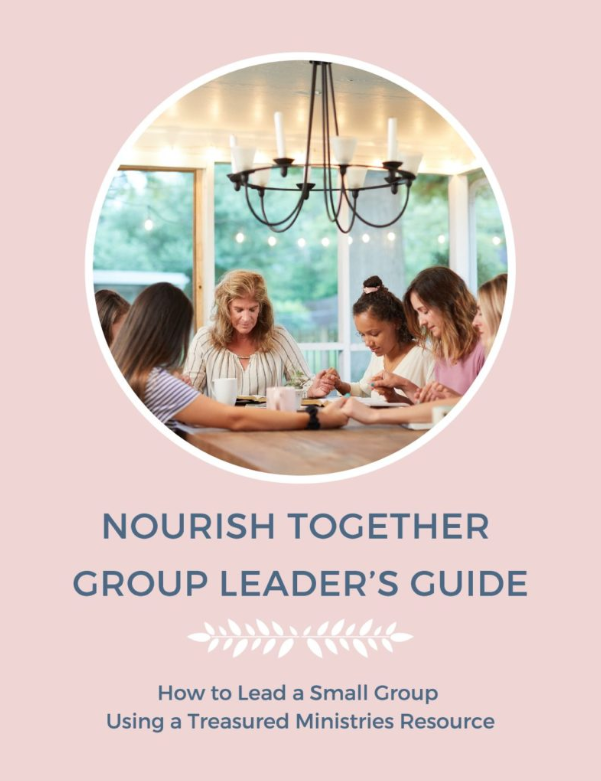 GET YOUR FREE NOURISH TOGETHER LEADER'S GUIDE!
This guide will…
Provide a getting-started checklist. This is a list of suggestions that will help you best prepare for a powerful, spirit-led group experience. It also gives ideas on how to connect with each member of your group in a unique way that lets her know she matters.
Explain each Treasured Ministries Bible study option. The guide is a complete breakdown of all Treasured Ministries resources available to you to use with your Nourish Together Group so that you can choose which study is the best fit for your group.
Offer a complete list of materials, resources, and frameworks. Within each study option, there is a simplified list and suggested structure of all you will need to be prepared and lead with confidence.
Step 2. Get the support you need to lead well.
We understand the challenges that come with leading. That's why we've created a support system for our Nourish Together Group leaders.
Nurture Facebook Group. This is a private Facebook group that is created to be a place to ask questions, receive prayer, and get encouragement throughout your leadership journey.
Added bonus- store discounts for leaders! We want you, and your group, to have the resources you need to get the most out of your Nourish Together Group experience. Leaders receive store discounts so that you can purchase resources for your whole group at an affordable price.
Step 3. Lead a women's Bible study with confidence. Make disciples, cultivate connections, and nurture others.
Our goal is to empower you to cultivate connections that change the world. We know that God has a vision for our Nourish Together Group leaders to lead others to Him. Just as Matthew 4:24 says, "…people soon began to bring to him all who were sick."
There is a hidden gem about a leader within this verse. A leader leads well when she leads others to Jesus because she understands that He is the Healer.
GET YOUR FREE NOURISH TOGETHER LEADER'S GUIDE!

Be the Light
Jesus spoke of soul nourishment being spiritual bread that comes from connecting with his Word. When we connect with Him, we are given a gift – a flame from the fire we are to pass on that ignites another to discover her purpose.
"This is why I remind you to fan into flames the spiritual gift God gave you when I laid my hands on you. For God has not given us a spirit of fear and timidity, but of power, love, and self-discipline." – 2 Timothy 1:6-7
Each timeless truth you pass on to another woman who needs more of Jesus adds a piece of colorful cloth that is woven together into the tapestry of God's great design.
Connect Others to Christ
God will use you as a Nourish Together Group leader to magnify His Word in ways that refresh a woman's soul and spirit. Wisdom comes from spending time in and deeply connecting with the Word. And as Jesus said, He won't let that light be hidden. He wants to share it through you.
Don't let the enemy fill you with uncertainty. The one who lives in you is greater than he who is in the world (1 John 4:4). Together, we become those pearls placed on the 3-stranded cord (Ecclesiastes 4:12), anchored in truth and not easily broken.
Hear How Women Are Being Transformed by Connecting to Jesus through Treasured Ministries Bible Study Groups
"This study has encouraged me to be bold and reclaim my security in Christ by the sincere knowledge that His Holy Spirit is speaking to my heart and leading me each day." – Patti
"I have been participating in and leading women's Bible studies for over a decade and I have never witnessed God transform lives and build intimacy between women more than when I led a group through You Belong to the Bridegroom." – Mallory
"The Word of God, woven in every fiber of the workbook, is so powerful. I love the study approach. I started a Bible study using this workbook and the feedback from the ladies is amazing! Several of the women have never been in a Bible study and are very encouraged to dive deeper into God's Word!" – Alice
Fill out the form below to claim your
FREE Nourish Together Leader's Guide
and discover how to lead a small group
using a Treasured Ministries study: