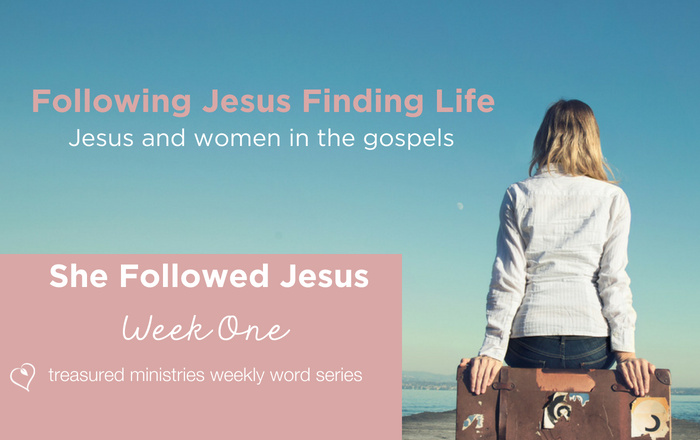 You matter. Your life matters. You are designed by God to make a difference.
But often life's challenges can speak a different story to our hearts. Sometimes, they make it hard to believe God's truth about who we really are.
Jesus invites us to live differently by seeing differently. Walking by faith….those challenges become the very stepping stones to build faith turning broken hearts into brave hearts.
The Women Who Followed Jesus
When Jesus spoke to women in the Scriptures, his words were empowering and life- changing. His words led the women into a place of purpose . . .  into the freedom to become all God created and redeemed them to be.
Whether it was breaking an alabaster jar to anoint Jesus for burial, supporting Jesus from their own means, washing his feet with tender tears, or being the first chosen to share the news that he had risen—women realized that they mattered and that their lives lived for Christ made a difference.
As he captured their hearts with his words, they captured the life they were created and redeemed to live.
The gospel of Luke records a community of these women who traveled with Jesus to take care of his needs as he ministered to others (Luke 8:1-3). As they traveled with Jesus, the words he shared would impact their lives and redefine their future. Walking with him and in fellowship with one another, they stood together steadfastly to live for him, bringing the life-changing gospel message to others.
What a difference knowing his truth made in the way they lived. What a difference it makes in all our lives today. That difference ripples to the lives around us.
Jesus Is Speaking to Our Hearts Today
Jesus is still speaking to the hearts of women. His truth still changes lives, and those changed lives reach out and change others.
This is following Jesus. This is finding life. This is the life you were created to live.
Welcome to Following Jesus Finding Life, the next Treasured Devotions series from Treasured Ministries. In the next twelve weeks you will . . .
Build your faith and find inspiration as you walk through the Gospel accounts of Jesus as he interacted with different women.
Understand the incredible value God places on women and his true heart for them. Learn how embracing this truth daily can change your life as you walk by faith and not by sight.
Discover the differences between "false shepherds" and the "Good Shepherd" so you can travel confidently by following the voice of truth.
Be encouraged by supporting resources for your journey, including our podcast.
Discern God's truth for your life with the Nourish Bible Study Method so you can follow Jesus and find the life you were created to live.
God has an amazing plan for your life, and his truth will nourish your heart for the journey. Press forward with God's dream for your life—one bold, beautiful, brave step of faith at a time.
Forward this email to a friend and invite her to join you!
Let's do this!
Blessings,
Aliene
Walk through each step of the Nourish Bible Study Method by downloading Nourishing Your Heart today!
---
Blog written by Aliene Thompson. Aliene Thompson is the founder of Treasured Ministries and the Author of the Nourish Bible Study Series. © 2019 Treasured Ministries.