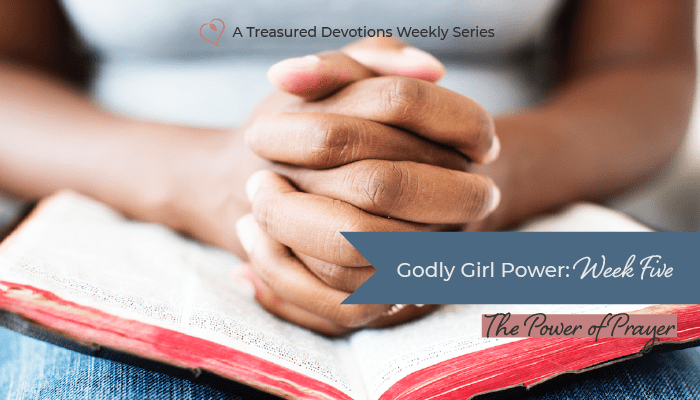 "Now to him who is able to do immeasurably more than all we ask or imagine, according to his power that is at work within us, to him be glory in the church and in Christ Jesus throughout all generations, for ever and ever!" (Ephesians 3:20–21 NIV, my emphasis)
Immeasurably more. Her eyes ran over those words and then lingered for a while. Immeasurably more. God can do immeasurably more than she could ever ask or imagine, according to HIS POWER.
She pondered on her faded prayers that had once been filled with so much passion.
A season of storms sabotaged her prayer life, making it small. Like the force of hurricane winds loosening the roots of a tall tree, the storms of life shook her faith to the core. The enemy lied to her heart about the storms and told her that God was not powerful . . . and her prayers faded. She felt afraid. She thought about her past year and the loss she had experienced. The loss in her life combined with her fragile faith made her feel powerless. Her insecurity swallowed her confidence. In response, her soul grasped for security by clinging too tightly to the people in her life, and she began to walk under the false illusion of control.
This led to more insecurity and fear because when she tried to control her circumstances, her circumstances began to control her. Worry, fear, and anger surfaced as she tried to control what ultimately, she could not.
And she was weary.
The Lord looked at his treasured one with love. No storm could ever separate them. He nourished her heart with truth and reminded her of the power of prayer. With tears in her eyes, she sank to the floor and let her prayers flow. People were there for her to love, but they could never give the security and life she was looking for.
Godly girl power flows from great expectations laid at the feet of our mighty God, who can do "immeasurably more" than we could ever ask in prayer.
Sometimes we can "self-sabotage" our prayer life because we pray based on what we think we deserve instead of WHO GOD IS. The enemy can use a storm, or our past, or even our religious traditions to keep our prayers small. Don't let the enemy fool you, wise woman. Pray prayers based on WHO GOD IS and remain faithful regardless of the outcome. Don't filter your prayers through what you think you deserve—let your prayers flow like a mighty river and let God filter the results through his pure and perfect will to bring glory to his name.
Hey, treasured one, revitalize your prayer life this week by recapturing the awe of your God.
The God you serve is an "immeasurably more" God. Yahweh is the source of your strength. The Lord is his name. King of kings. Lord of lords. He is a strong tower. A fortress. He is mighty to save. The winds and waves obey his commands. "Holy, holy, holy is the Lord God Almighty, who was, and is, and is to come" (Revelation 4:8). He is Lord over all. "For from him and through him and for him are all things." (Romans 11:36)
Great expectations in our mighty God through prayer gives us the freedom to let go of trying to extract from people what only God can give us. When our expectations rest in the Lord, we can let go of others to truly love them.
Much as a watering can must be filled before it can pour water out and bring nourishment to plants, we must first be filled with his love to give love out. And as the watering can pours out to others, a greater capacity is created to receive even more. When we are trying to extract from people what only God can give us—it is as if we are watering cans going to other watering cans trying to find water.
Think of bold prayer as positioning yourself to fill your watering can to nourish your heart so you can nurture others. To have some understanding of God's love, we must experience it. To experience it, we must receive it. Each time we experience his power in answered prayer pushes the roots of our soul deeper into his love and makes us strong as we trust in Him. Only when Christ becomes seated at the center of our heart through the humility of prayer and our roots are deep in his love can we truly love others with his love. And that is godly girl power (Ephesians 3:14–21).
Prayer will grow your roots deep in God's love because you are placing your trust in him. When your roots are deep in God's love, you will bear the fruit of his love to others.
You have only one life. Pray with great expectation. Live a life worthy of your calling by receiving his love and giving it to others. Fall on your knees in prayer and trust the one who can bless you beyond measure so you can be a blessing to others.
Nourish Scripture: Ephesians 3:14–4:6