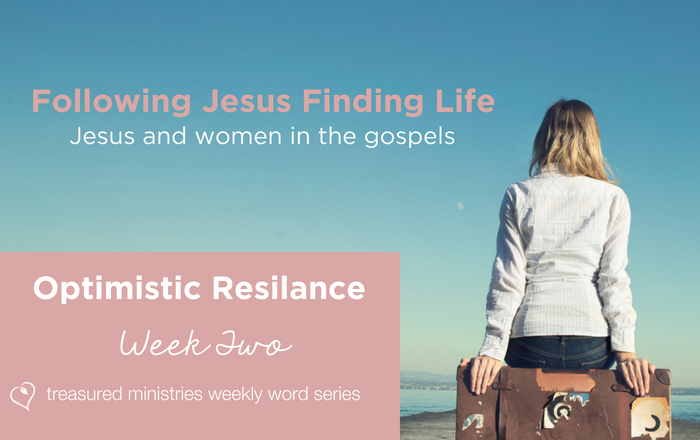 Patient perseverance. Optimistic Resilience. Reckless love for new life.
Examples of Women with Optimistic Resilience
Two women from different worlds but with the same determined drive find a way to partake of Perfect Love…
To experience abundant life, two women on the outside would break current glass ceilings with optimistic resilience on their Lord and usher in a new season.
At the end of their resources, their determined faith would connect them with the Living Fountain from which their healing and an abundant harvest for others would flow.
Two women on the outside with bold faith gained acceptance inside the circle of eternal life, wrapped in the arms of Perfect Love…
A Gentile woman's faith persisted for the life of her dying daughter, and ultimately provided a catalyst for walls between Jew and Gentile to fall (Mark 7:24-29).
Suffering for twelve years with constant bleeding, a Hebrew woman found healing by simply touching the hem of Jesus's garment (Mark 5:24–34). Pressing through the crowd despite her fear (fear made stronger by the cultural divide of her gender and old covenant law), she also painted a picture of the new covenant and hope for women to come.
Two women with different circumstances but the same steadfast, immovable faith in Jesus.
Patient perseverance. Optimistic resilience. Reckless love for new life.
We Are Created to Nurture
Women have a beautiful ability to hold onto our faith before we see the harvest because we are created to nurture. We forge forward with bold, brave persistence that believes new life is possible when our circumstances suggest otherwise. And this patient perseverance to walk by faith is a necessary element to see the seeds of God's Word grow and create a harvest to nurture others.
"And the seeds that fell on the good soil represent honest, good-hearted people who hear God's word, cling to it, and patiently produce a huge harvest." Luke 8:15 NLT
Clinging to God's Word with determined faith brings healing to our hearts and an abundant harvest to nourish others. God created women to nurture life. Part of nurturing is believing in new life before we see new life—to stick with a seed by watering it with faith until we reap the harvest.
I believe this is why God calls women to help him break up the soil when a new season is on the horizon.
What examples these New Testament women set for us!
The Hebrew woman who broke through the crowd—and through old covenant for the new covenant.
The Gentile woman who broke through the walls that separated Jew and Gentile for Jesus to bring the gospel to all.
The woman by the well who was the first to share Jesus with the Samaritans to sow seeds of the gospel in their hearts.
Mary Magdalene, chosen to be the very first to tell others of the resurrection—the first evangelistic outreach.
While God calls women to nurture life, cultivating this calling is a challenge as the enemy of our soul seeks to destroy new life. Our children struggle. Our marriages see difficulties. Our hearts are broken. We face health challenges. Disappointments seek to dilute our faith, and our brave hearts break under the weight of an imperfect world.
Where can we find the courage to cultivate optimistic resilience for reckless love?
"Therefore, since we are surrounded by such a huge crowd of witnesses to the life of faith, let us strip off every weight that slows us down, especially the sin that so easily trips us up. And let us run with endurance the race God has set before us." Hebrews 12:1 NLT
Looking back at the many women before us who arose and carried hope into hopeless situations will bring bold faith to believe what we cannot yet see. The Hebrew woman who pressed through the crowd. The Gentile woman who persisted in her request.
They are two examples of great women who have gone before us to make a difference by believing in Perfect Love.
You Must Nourish Your Heart
Hey, brave heart. What seems hopeless in your life? Where would you like to see a harvest? Where has God planted you, trusting you with a seed to nurture? You must first nourish your heart by watering it with his Word.
Patient perseverance. Optimistic reliance. Reckless love for new life.
During our Following Jesus Finding Life Series, take the next step after you read your devotion by reflecting on the weekly Nourish Scripture. Be inspired by passages describing women who moved with bold faith and found life with Jesus.
We've provided the link to the Nourish Scripture, so inspiration is one click away.
Like our Facebook page and be encouraged with weekly messages.
Consider continuing your study by downloading Nourishing Your Heart, which walks you through each step of the Nourish Bible Study Method.
Nourish Scripture: Mark 5:24–34 & Mark 7:24-29
---
Blog written by Aliene Thompson. Aliene Thompson is the founder of Treasured Ministries and the Author of the Nourish Bible Study Series. © 2019 Treasured Ministries.