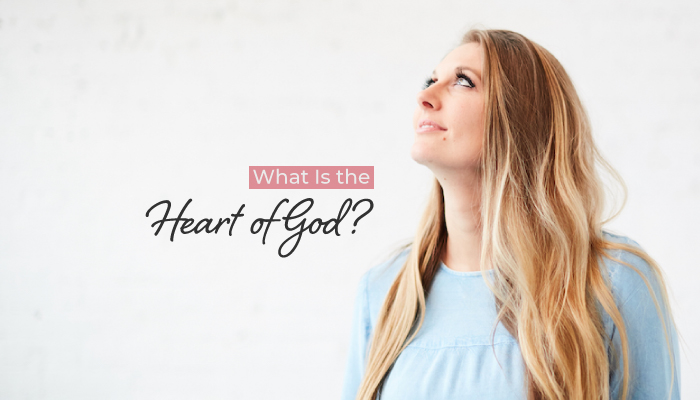 God's heart is that your heart will align with his. Through this divine alignment, you embrace your identity in Christ and become who he created you to be.
Jesus wants to be more than your Savior. Jesus also wants to be the Lord of your heart. When he reigns in your heart, he unlocks the doors that have been closed to your purpose. You become free to live the life God intended.
This is God's joy.
This is the heart of God.
3 Keys to Unlock the Heart of God
The Heart of God Is for You to Pray Bold Prayers
Many of us know that we can "boldly approach the throne of our gracious God" (Hebrews 4:16), but how often do we pray bold prayers? Prayer is a beautiful privilege available to you, as a daughter of the King. He is your Abba Father and longs to hear what is on your heart. He also wants to remind you of what is on his—a faithful promise he intends to keep.
Bold prayers are more than asking for what you need; they boldly proclaim God's promises over your problems.
Through a bold prayer life, you can make your requests known. It also opens up your heart and mind to remember and receive the promises of God.
"For all of God's promises have been fulfilled in Christ with a resounding 'Yes!' And through Christ, our 'Amen' (which means 'Yes') ascends to God for his glory."—2 Corinthians 1:20
Bold Prayers Unlock…
The hope needed in hopeless situations.
The change needed in your thought life to move from oppressed to optimistic.
Faith needed to face your fears.
The Enemy of Your Bold Prayers
While God calls you to embrace a bold prayer life, the enemy will use any distraction to keep you from coming to Jesus with an authentic heart. Instead of listening to the lies that say, "It is too dangerous to open your heart," decide today to nourish your soul by watering it with the Word.
Do This… Find one of God's promises that speak to your problem and proclaim it!
The Heart of God Is for You to Walk by Faith
You know the verse Isaiah 40:31 that says, "… those who trust in the Lord will find new strength. They will soar high on wings like eagles. They will run and not grow weary. They will walk and not faint."
God designed you in a specific way for your faith to grow stronger as you connect with his perfect love.
It is during this season of wait that the seeds of the Word, planted in your heart, are creating an abundant harvest. It's also during this season you nurture what is possible.
What does that mean? It means that during the wait, God allows you to walk by faith, displaying his glory and promises to others. Displaying his glory isn't something you need to strive to do. It supernaturally occurs when you lean into him for strength.
In this walk, it is the heart of God that others will be nurtured.
"And the seeds that fell on the good soil represent honest, good-hearted people who hear God's word, cling to it, and patiently produce a huge harvest."—Luke 8:15
Walking by Faith Unlocks…
The encouragement you need to keep moving forward in your purpose.
God's glory, displaying it for others to see.
The belief in the abundant harvest that is promised to come.
The Enemy of Your Walk of Faith
Because God wants you to walk by faith, the enemy's tactic is to create doubt, dwindling your faith little by little. He wants you to see it to believe it. He whispers lies such as, "If God wanted you to overcome this problem, you would have already."
Instead of listening to the lie, decide today to believe what is waiting for you, a hope and future (Jeremiah 29:11). It is easy to believe in the harvest, but it takes faith to believe it will come when there is no sign. It is in these moments, when we completely surrender, that God's goodness will overflow in our souls.
Do This… While you wait, reflect on what God has already fulfilled in your life. Remember, he's not done with you yet (Philippians 1:6).
The Heart of God Is that You Affirm Your Identity
Who hasn't questioned their identity? The words from our past often create questions of who we are. From there our minds race to questions about our purpose in life. John 8:36 says that "if the Son sets you free, you are truly free."
Do you believe you are free? God designed you for a purpose, but that purpose can only be fulfilled once we understand our identity in him. Imagine you have a lamp so powerful it has the potential of illuminating a forest in the dead of night. But unless that lamp is plugged into the proper power source, its full potential is never experienced.
In the same way, you can plug into the source of your identity. As soon as we "unplug" from God, our light begins to go dim.
"'You are the light of the world—like a city on a hilltop that cannot be hidden. No one lights a lamp and then puts it under a basket. Instead, a lamp is placed on a stand, where it gives light to everyone in the house.'"—Matthew 5:14-16
Affirming Your Identity Unlocks…
The heart of God, aligning your desires with his.
The empowerment to become who God created you to be.
The spiritual weapons that remind the enemy that you will never be separated from the perfect love of Christ.
The Enemy of Your Identity
Words have power. God spoke a word of life over you the moment you were born again. But the enemy attempts to pull you back into your past. He says, "You haven't changed." Thank God he changes us!
"Create in me a clean heart, O God. Renew a loyal spirit within me."—Psalm 51:10
Do This… The next time the enemy creates doubt, remind him there is no doubt of your identity in Christ.
The Takeaway…
The heart of God is for you to embrace your identity in him, and he will reveal who you were created to be. Your heart matters. You have a purpose that matters. Connecting with God's heart through his Word unlocks that purpose. The keys are…
Bold prayers
Walking by faith
Affirming your identity
Let's decide today to change our thought life and have a heart for God's glory!
Download the My Heart for His Glory PDF HERE. This PDF helps you identify lies that stand in the way of your purpose and connect you to the heart of God.