How Your Support Helps Hurting Women
Experience the Unconditional Love of God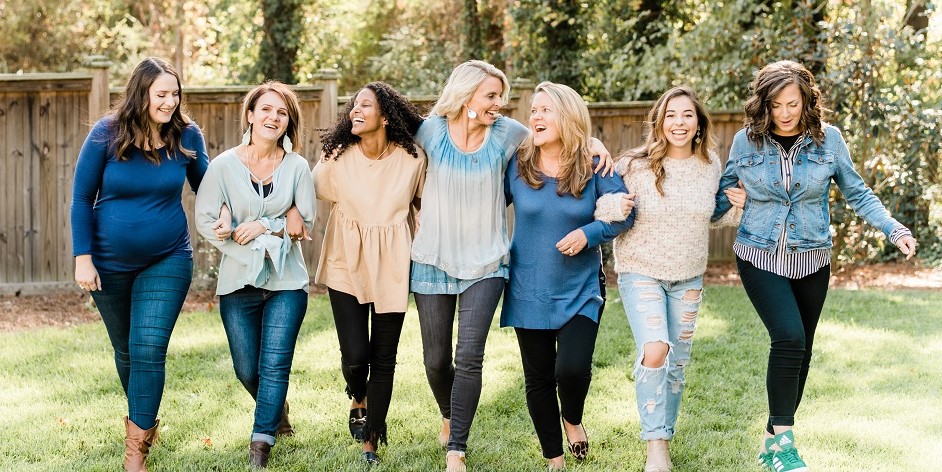 Let's Partner Together on a Mission
Each of us has experienced the perfect love of Christ.
We may have had hurtful words shape our past, but God has brought strong, wise women across our paths to speak words of life to us. These words connected us to Jesus and taught us that his words give us purpose and shape our future.
Did you know that God doesn't stop at revealing your purpose? There is still more he wants you to experience. He wants you to partner with him as he guides other women into their purposes.
This is what Jesus meant when he said, "God blesses those who hunger and thirst for righteousness, for they shall be satisfied," (Matthew 5:6 ESV).
The more we thirst and hunger for Jesus, the more we experience his love, the more fulfilled we become, and the more we see his healing hand touch broken hearts.
The beauty of your faith journey, and ours at Treasured Ministries, is that with each God-given stepping-stone we place our toes upon the next one is revealed. The Spirit of God aligns them perfectly so we can keep moving forward in our purpose.
Treasured One, understand this: It is by no accident that your path has crossed Treasured Ministries during this season.
The Path Continues…
The divine method God uses to move us forward also comes with a divine message—he isn't through with us.
Isn't this exciting?
He has planted a seed inside of you that has produced a harvest. That harvest doesn't stop with reaping what was sown. The harvest that the Holy Spirit produced within you is intended to leave seeds which are then planted within another. Yet another will water it, and still, another will cultivate it (1 Corinthians 3:7).
You have a place in this process. And God brings it all together for his glory—growing the faith and healing the hurt of one woman so she can plant seeds of hope in another.
When we understand the abundant love of our Father, the Spirit moves us forward, equipping us to show others the love that Jesus has for them.
This means that…
Your Dream Builder will use you to show other hurting women they can still dream!
Your Bridegroom will use you to reveal to other women how deep his love is!
Your Healer will use your story of brokenness to bravery to encourage other women they too can experience healing!
Let's Partner Together on a Mission
But a Problem Can Block the Path…
The Word of God tells us that we are stronger together (Ecclesiastes 4:12). Yet the enemy of our souls wants to keep us from this truth. He makes us doubt that we have anything to offer another woman who is where we have been. The enemy wants us to believe the lie that our brave hearts are not equipped by God to help a broken heart heal.
These thoughts can block our paths like large boulders on the way to our purposes. But there is good news!
It is through Christ that you are equipped for what God has called you to do (Philippians 4:13).
Jesus said if we have faith as small as a mustard seed, we can tell the mountain to move! Treasured One, the Spirit equips you to move the mountain that stands in the way of moving forward. God will always give you a way to fulfill our purpose of showing those who are hurting his perfect love and healing power—that you can trust.
At Treasured Ministries, we understand the doubt that can arise and the mountain it places in our paths. Starting out, we were just a small group of women who were on a mission to connect with the words of Jesus. We discovered that through that connection…
Our soul hurts were healed.
Our insecurities faded.
Our purposes were revealed.
We knew other hurting women needed to experience the transforming power of God's Word.
Mountains are beginning to move! But they move faster when we partner together for a purpose—a mission to help women overcome hurt and live the life they were created for.
Let's Partner Together on a Mission
Move the Mountains That Get in the Way of Your Purpose
God's divine plan always involves a community. Treasured Ministries has created a community of partners that share the same passion, vision, and mission to help women overcome soul-hurts and connect to their God-given purposes.
This mission involves monthly support from women like you, who have experienced the transforming power of God's Word and want others to experience it too. The more we partner together for a purpose, the faster that mountain is moved—making a way for God's purposes to be fulfilled within every woman.
Here's How to Sign Up…
Step 1: Prayerfully consider how God wants to turn your trials into triumphs to reach more women.
Step 2: Go here and click the Sign up now button to start your monthly giving through the Treasured Ministries Partner Program today!
Step 3: Move the mountain that stands in the way of reaching those who need to connect to the healing power of God's perfect love.
What Your Monthly Partner Donation Does…
Women all over the world have experienced pain in their past. They are seeking the perfect love of Christ. Your $29.99 monthly donation…
Helps women experience an authentic, faith-filled life.
Provides resources that develop leaders and women's groups.
Teaches women the Nourish Bible Study Method.
Connects hurting women to the healing power of Christ.
Partner Program Bonuses!
Through our Treasured Ministries Partner Program, recurring donors are given exclusive, unlimited access to…
The Nourish Bible Study Series videos. This includes the videos that accompany the Dream Builder, Brave Heart, and You Belong to the Bridegroom studies.
The entire Treasured Devotion library. This library holds all past and future Treasured Devotion Series.
20% off any time you shop in the Treasured Ministries store. Who doesn't want a 20% off of anything they choose?
What does that mean for you?
The Nourish Bible Study Series Videos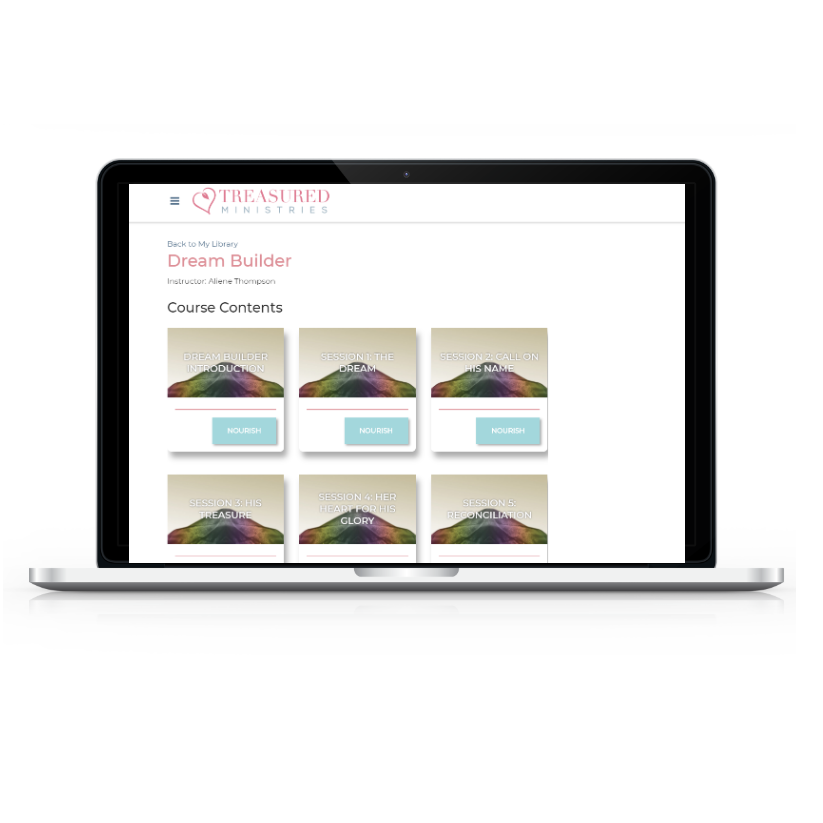 Active partners have access to Aliene's direct teaching through each of her Nourish Bible Study Series. That includes…
7 Dream Builder videos
10 Brave Heart videos
13 You Belong to the Bridegroom videos
… for FREE!
Treasured Devotions
Typically, after a Treasured Devotion has been completed, it is available for purchase through our store. But as a Treasured Ministries Partner, we want you to have access to those devotions whenever and wherever you need them.
Did you like a specific study? Revisit the content and videos anytime.
Were you only able to do part of the study with the Treasured Tribe? No problem. Catch up on anything you missed through your exclusive library access.
Did you miss out on an entire Treasured Devotion Series? Your exclusive access keeps all past studies in your library. Access them anytime.
20% off any time you shop in the Treasured Ministries Store
Okay, who doesn't love to get great items at a great price? That's why we've given this exclusive discount to our partners. We want you to have the items you need to grow in your faith at the best price!
We want to equip and support our partners just as they support us. This is our way of saying thank you for committing to changing the lives of women everywhere.
Let's decide to move this mountain together. When we come together, the power of God is multiplied. He reached you, and now he wants to use you to reach another.
Let's Partner Together on a Mission