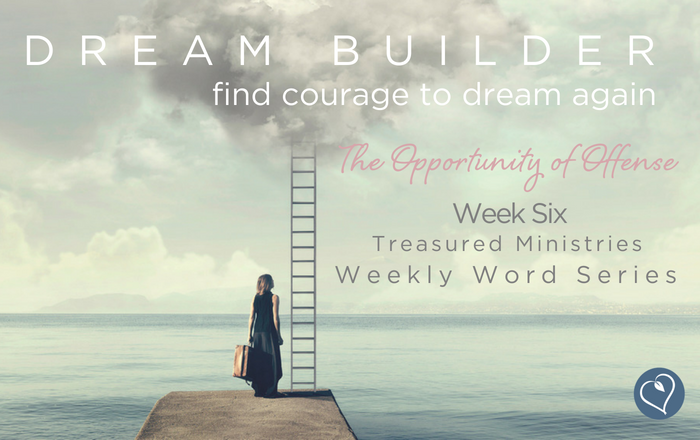 God never let go of Joseph. God was with Joseph in the pit, the prison, and finally the palace, all the while building his dream. Wise Joseph prepared and guided Egypt through a severe famine, but his greatest test was yet to come: forgiving his family.
Offenses from those closest to us hit our hearts hardest because of the proximity we share. We have all been there. You might be in that place right now. But what if we saw offense as an opportunity?
Sometimes if we shift our focus on a matter, our perspective can change. Let's take a second look at forgiveness. Let's shift our focus and see offense as an opportunity to trust the Dream Builder.
Understanding Forgiveness
Opposed to our human nature and often misunderstood, forgiveness is a hard concept to grasp.
Forgiveness is not saying that what happened was okay.
Forgiveness does not mean forgetting what happened.
Forgiveness does not mean trusting the person—but it does mean trusting God to handle the situation.
Joseph forgave his brothers but wisely tested their hearts to see if he could trust them. Joseph cared for his brothers, yet there were physical boundaries in place. His brothers did not work side by side with Joseph—they served as shepherds in the fields. In Genesis 50 after Jacob died, we see that the brothers feared that Joseph would finally seek revenge. This indicates to me that their relationship was not intimate.
Boundaries are healthy and biblical, but bitterness is not. However, when you grow up believing that boundaries or saying no is wrong, sometimes the only boundary we know how to set is that of the bitterness in our hearts. And all the while in our misunderstanding we are playing right into the enemy's hands as bitterness fills our hearts and creates a barrier to the presence of the Holy Spirit, not our offender.
Forgiveness is letting go of your right to retaliate by releasing your offender to God.
If you retaliate, you are allowing your offender to control your life. If you repress your emotions or deny them, you'll swallow that anger and plant the seed of bitterness in your soul. Revenge, repression, retaliation—they all put you in a prison. But releasing the offense to God allows the great I AM to control your life. And with that release comes freedom.
Being real about your hurt and bringing that pain to God opens the door for healing. Showing love to your enemy dissolves your offender's power to hurt you because it confirms that God is in control of your life. As you look to the Lord to defend you—he will! As you look to the Lord to restore what is lost—he will! Redirect your energy by pouring it into your purpose.
Offense can be an opportunity, not an obstacle, when we see it as an open door to trust God. When you release others, you open your hands to receive from God, the only one who can redeem and restore.
"Joseph replied . . . 'You intended to harm me, but God intended it all for good. He brought me to this position so I could save the lives of many people. No, don't be afraid. I will continue to take care of you and your children.'" (Genesis 50:19–21).
The Power in Love
God wants you to be powerful, not passive. But God's power does not rest in revenge—it rests in love. Love is a powerful force and puts God in control instead of your offender. Spend your energy on your purpose—not dwelling on buried hurts or revenge. Focusing on God's purpose for your journey is an essential, effective way to live. You are not responsible for your offender's actions, but you are responsible for how you respond. God saw what happened to you. He is not asking you to say that what happened was okay—but he does want you to turn it over to him.
God has a dream for you. Amazing things can happen when you give control of your life over to the Dream Builder and trust him with childlike faith.
What is your dream? Only when we lay our dreams at the feet of Jesus in complete surrender will we find freedom and the real joy that comes only from trusting Jesus as Lord over our lives. Your Dream Builder will meet your deepest needs at the place of greatest surrender. Onward. You matter. Your purpose matters. Don't give up. Instead, give in and watch God build his dream through you.
The devotion you read today is taken from Dream Builder: a six-week study on Joseph and the Patriarchs from the Nourish Bible Study Series. Consider Dream Builder for your next Bible Study and find the courage to dream again.
Nourish Scripture: Genesis 50
---
Blog written by Aliene Thompson. Aliene Thompson is the founder of Treasured Ministries and the Author of the Nourish Bible Study Series. © 2019 Treasured Ministries.