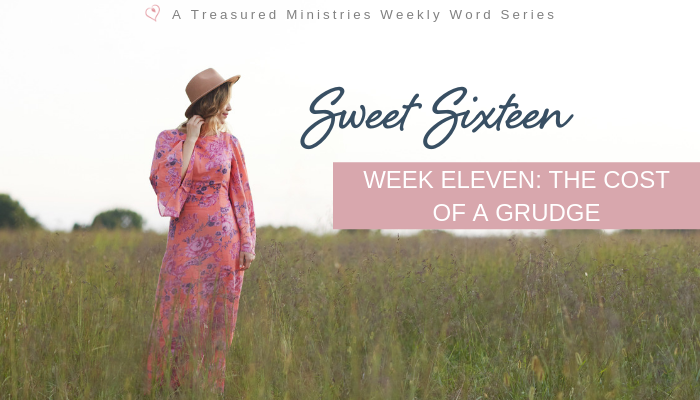 When we nurse a grudge and cling to unforgiveness, we come under the influence of evil thoughts and actions.
Nothing positive results from a woman nursing a grudge. Nothing. When we nurse grudges, we play into Satan's hands, and our influence is wasted instead of being used for God's glory.
A woman who prays carries great influence. However, carrying unforgiveness or nursing grudges can have a negative impact on our prayer life. Today, we are going to look at the connection between forgiveness and our prayer life.
Pray
and
Forgive
"Therefore I tell you, whatever you ask for in prayer, believe that you have received it, and it will be yours. AND when you stand praying, if you hold anything against anyone, forgive them, so that your Father in heaven may forgive you your sins" (Mark 11:24-25).
I think the most powerful and probably overlooked word in this passage is the word and. This word links the importance of forgiveness to a powerful prayer life. We know faith is a key to powerful prayer, but forgiveness is essential also. For our prayers to be effective, we need to walk in the righteousness of Christ, faith, and forgiveness (James 5:16; Mark 11:24-25).
You see, there is a relationship between forgiveness and our faith…
In Luke 17:3-6, when Jesus told his disciples to forgive seven times a day, they cried out, "Increase our faith." When we cling to unforgiveness, we are putting our faith in people coming through for us instead of God. Jesus said, "Have faith in God" (Mark 11:22).
Think about a tightly balled fist representing unforgiveness and bitterness. When God pours down his blessings, we cannot receive them because our hands are closed. But when we release others, we can open our hands to receive from God.
I have always believed faith is one of the most important aspects of prayer. However, after pondering on this passage, my eyes are wide open to the truth that forgiveness opens my clenched hands to receive because it places my faith in God instead of man. This is the relationship between faith and unforgiveness and our prayer life.
Life is not fair—and it never will be—but God is faithful to give us more than enough when we consistently walk in forgiveness.
In our fallen world beyond the garden of Eden, we have learned that all women will experience bruises along the way caused by others hurting us. A natural reaction to this hurt is to feel that person owes us something.
The debt could be anything.
Think about a hurt you cannot seem to release. What does that person owe you?
Money?
Time?
Your childhood?
Your self-esteem?
An apology?
Your health?
Your marriage?
What has been stolen? Your dignity, self-respect, or self-worth? Your reputation?
Our offender may never be able—or willing—to give us back what they took. However, instead of looking to the offending person to restore what we lost, we need to look to Jesus by placing our faith in him.
Look to Jesus
Jesus has secured spiritual blessing for believers and promises to bring restoration to the hurts in our lives. Jesus brings justice to the injustices in our lives.
It is not our job to administer justice and make everything right and fair. Further, the Word tells us Jesus can make up for the hurts in our lives. People cannot restore what has been lost, but Jesus can (Isaiah 61:7). The restoration may not come from the person who owes us, but it will come.
Forgiveness is not saying what happened was acceptable or right. Forgiveness is saying, "I release you so I can receive from God."
We may never receive what we are due from that person, but God will take care of us in ways beyond our thinking. But we must first forgive. As we forgive, we are placing our faith in the King of kings, who owns everything! (Psalm 24:1) This is the relationship between faith and forgiveness.
People are not your source, brave heart! God has given us a greater way to handle hurts in our life. Release offenders to God so you can receive from God through forgiveness.
Let's be wise women and walk in forgiveness. Have faith in God. Release others so you can receive from Jesus. Walk in forgiveness and watch the mountains in your life move.
Nourish Scripture: Mark 11
To walk in forgiveness, you need balance and nourishment. Download Nourishing Your Heart to find out how to connect with Jesus and transform the way you live.
---
Blog written by Aliene Thompson. Aliene Thompson is the founder of Treasured Ministries and the Author of the Nourish Bible Study Series. © 2019 Treasured Ministries.