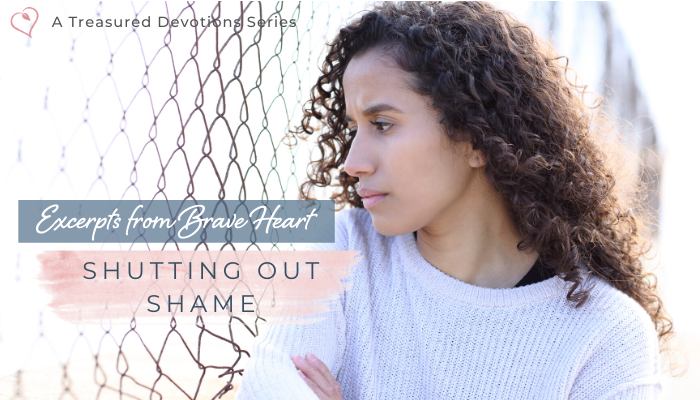 Last December I heard the testimony of a young woman who suffered from an eating disorder. When she came to the end of her rope, she decided to get help.
During her counseling, God revealed that in her past someone sexually abused her. To deal with the pain, she had suppressed those memories until the Lord brought them to the surface. Once the truth came to light, the Lord could deal with her wounded heart, and today she no longer suffers from anorexia.
God Restores and Redeems Us
Our God is a God who restores and redeems. This is just one story among millions about the redemption of God. His light dispels the darkness through the healing hands of Christ.
The young lady suffered from an eating disorder on the outside because of suppressed pain on the inside. When we invite Christ to reveal hidden hurts in our past, the light of the Lord shines in our dark closets and opens doors of hope.
God cannot heal what we hide. Honesty with God and healing walk hand in hand.
Shutting out Shame Prevents Healing
Israel suffered defeat because of Achan's spoils hidden underneath his tent. Perhaps you are like Joshua, and someone else's hidden sin is causing destruction in your life. Maybe you missed the mark as Achan did, and instead of going to God, you are hiding because of condemnation and shame.
After Joshua cried out in prayer, God uncovered Israel's hidden sin and reestablished their dominion in the Promised Land, as evidenced by their victory over Ai. God redeemed them from their trouble and restored hope.
Christ is the healer and redeemer from all sin. He makes all things new and restores hope. Under grace, given in the new covenant, there is no sin God cannot redeem.
Satan wants us to remain voiceless and trapped in darkness. His tactics of condemnation motivate us to keep quiet and isolated in our sin. Jesus is the only one who can heal our hurts and turn our trouble into hope. Instead of running to Jesus for help, you will run from him because the enemy will remind you of your faults and condemn you.
Christ fulfilled the law, so Satan cannot use our sin to condemn us! The shame is gone. We can speak freely to God and to one another!
To confess means "to speak out openly."  Do not hide in your shame, let the light of God's grace shine, and set you free.
It's Time to Confess, Not Hide
Confession disarms the enemy and speaks out the truth. We are announcing to the enemy, I am not afraid to talk to God about this problem because Jesus has paid the price for my sin yesterday, today, and tomorrow. I am completely justified. Your tactics of condemnation to keep me down in my sin do not work anymore.
Confession brings sin out into the light by bringing it to Jesus.
Confession declares our dependence on God.
Confession keeps us humble and grateful for Jesus' sacrifice.
Confession allows us to do something to replace our habit of hiding.
Confession to one another builds our compassion.
Confession breaks the silence and the hypocritical pretending because the grace that covers my sin is the same grace that covers yours.
I can be real and so can you because our righteousness does not depend on following the law.
When you hide, you are trying to deal with your sin through your own efforts. Our pretending, suppressing, and covering up of our sin blocks the healing waters of Jesus from flowing in our lives.
The law promotes sin. Grace frees us from it. Grace through Jesus removes the dividing wall between God and us.
It is time to come out of hiding and go boldly before the throne of grace. Joshua fell on his face and cried out to God to find out why there was so much trouble.
What pain have you suppressed so deeply that it is causing destruction in your life?
It is time to release the pain to God. Follow Joshua's example and take some time to ask God to shine light into the dark, hidden areas in your life. Light dispels the darkness. Ask the Holy Spirit to reveal the truth about your troubles. Take some time to pray, confess and invite Christ in to heal your pain.
You have a choice today. You can continue to wallow in the shame, self-pity, self-hate, and condemnation the enemy feeds you, or you can invite God in to deal with your sin through confession. Hope rests in the power of the gospel message that God will take all things—even trouble we have caused—and use them for his glory.
Nourish Scripture: Joshua 7-8
---
Blog written by Aliene Thompson. Aliene Thompson is the founder of Treasured Ministries and the Author of the Nourish Bible Study Series. © 2019 Treasured Ministries.