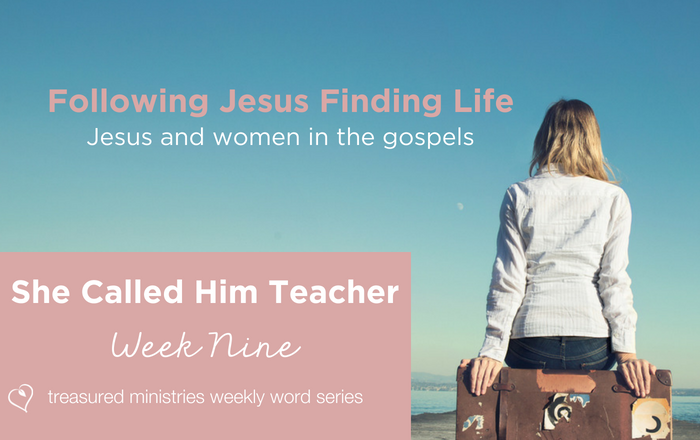 In Jesus' day, rabbis did not teach women. In fact, a rabbi would not speak to a woman if he passed her on the street. But as we peer into the gospels, we see story after story about how Jesus broke through every cultural barrier and social boundary to reach out to women and nourish their hearts with life-giving truth.
I love that about Jesus – don't you?
Jesus Was Their Teacher
Mary Magdalene called him "Teacher."
"Teacher!" Mary Magdalene could have called him Savior, Healer, Lord—but she called him "Teacher." The gospel of John records that precious moment when Mary Magdalene could not bring herself to leave Jesus' empty tomb. Weeping, she turned from the angels still in the tomb and saw a man she assumed to be a gardener. But when Mary realized the truth—that her Savior was standing before her—she turned to him and exclaimed, "Rabboni," which is teacher in Hebrew.
Mary of Bethany also called him Teacher.
Martha pulled her sister, Mary of Bethany, away from the mourners, whispering, "The Teacher is here and He wants to see you" (John 11:28). Mary's heart, saturated in sorrow, did not understand why Jesus had not come in time to save her brother, Lazarus. "Why" was echoing endlessly in her heart when Martha took her to Jesus, who wept with her. A short time later, Christ resurrected her brother from the dead.
Yes, women in the Bible who held Jesus close to their heart called him "Teacher." Jesus is the Lamb of God, the Prince of Peace, the Bread of Life, the Good Shepherd, Emmanuel (God with us), the Redeemer, King of kings and Lord of lords, but in these moments of great despair, these women called him "Teacher."
He Empowered Women
Jesus loved and valued women.
He taught them.
And with his words of truth, women were empowered to walk in a new way—by faith and not by sight. Through eyes of faith, these women began to see themselves differently. They saw their circumstances differently. They saw God differently. Their lives were never again the same because of their Teacher.
Today, women around the world continue to encounter Jesus as their Teacher . . . and their lives are forever changed. Through Jesus, these women have overcome all sorts of obstacles, adversity, and challenges with a strength the world cannot offer them.
Still today, when we allow Christ to redefine our identity and the purpose for which we were created, not only are our lives impacted—but also the lives of those around us. From that place of abundance, we can give to others the way God intended. We will join those who came before us, realizing Jesus laid his life down to fight for our heart, releasing us to live fearlessly for his glory as we look to him as our sole source for life.
Let's step boldly forward to live out our authentic identity and leave blessings in our wake as we lean into and learn from Jesus. Only the Holy Spirit can teach us truth and package it to make a lasting impact on our hearts.
As we call on our Teacher, we will hold our heads a little higher today. We will walk a little wiser. And we will find direction for our decisions today—as we lean on and look to Jesus as our Teacher.
As we call on our Teacher, we will navigate through this storm today. We will find courage to carry on. And we will understand how to walk through this valley we face today—as we lean on and look to Jesus as our Teacher.
Yes, brave heart, today and every day the Teacher is here to see you. Let us, like women of old, treasure the fact that Jesus wants to teach us as we seek truth through his Word.
ONWARD!
Nourish Scripture: Luke 10:38-42
Connect to God's Word and find the truth you seek. Download Nourishing Your Heart today!
---
Blog written by Aliene Thompson. Aliene Thompson is the founder of Treasured Ministries and the Author of the Nourish Bible Study Series. © 2019 Treasured Ministries.