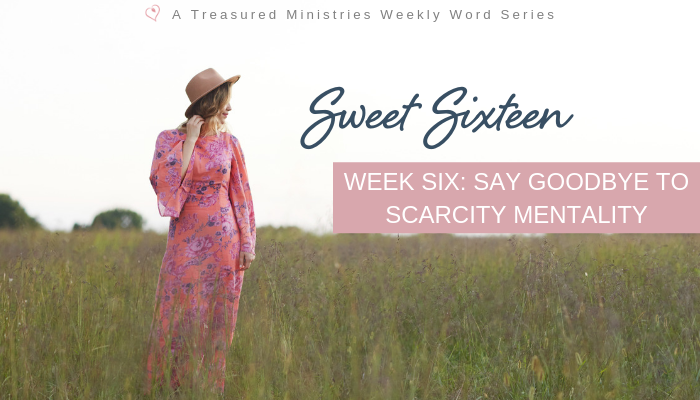 Every woman matters and is valuable to God. Yet often life speaks a different story to our hearts, and we find it hard to believe God's truth about who we really are. Our compass to navigate life shifts away from our Creator and moves toward outside sources, slowly pulling us away from living the authentic faith-filled life God created us to live.
But Jesus invites us to live differently by seeing differently.
Walking by faith in his Word, written on our hearts through the Holy Spirit, we can discover the truth to right the tide and return to our authentic purpose.
Walking by faith is a lifestyle that carries principals which often contradict what we perceive with our natural eye inviting us to see differently.
Over the next three weeks in our Sweet Sixteen series, we will review important principals on what it means to walk by faith.
Walk by Faith
See a lack of resources as an opportunity to build your faith and create an abundance mentality so your actions can bless many.
Splashed all over this week's Nourish Scripture are signs of a Savior who cared for those around him. From Jairus's daughter to the blind man, Jesus paused in his travels to relieve people from suffering. He called his disciples away for the time of rest they needed (Mark 6:31). When he sent his disciples out, he blessed them supernaturally to empower and equip them for what they would need to fulfill their calling (Mark 6:7). He looked out over the crowds that were following him and fed them spiritually and physically. When they ate, all were satisfied. He met their needs.
But also, in our Nourish Scripture this week, Jesus could not perform miracles around the people in his hometown because of their lack of faith (Mark 6:5). These verses struck me to the core this week…
Is there any area of unbelief that is limiting Jesus's work in my life?
How a Scarcity Mentality Develops
Sometimes when we are lacking resources our faith can waiver and a scarcity mentality surfaces creating fear. A scarcity mentality says what I have is not enough. But what if these circumstances were provision to build our faith and create an abundance mentality, so that our actions could bless many?
Limited resources open a door to depend on Jesus and build your faith.
Many times Jesus will lead us into circumstances where we have little and will ask us to do a lot. He asked the disciples to feed thousands with five loaves and two fish (Mark 6:38). When Jesus sent the disciples out two by two, he asked them to travel lightly. "Take nothing for the journey except a staff—no bread, no bag, no money in your belts. Wear sandals but not an extra tunic" (Mark 6:8-9). Often the Lord will send you out with little in your hands—little talent, little time, little treasure—to teach you to depend on him. In this way, he shows us and teaches us how to live with moment by moment faith and trust in him.
Jesus is the bread of life and compared himself to manna (John 6:35). Manna was the daily food the Lord provided to the Israelites in the wilderness. God used manna to teach the Israelites to depend on him daily and —that he would meet their needs.
"He humbled you, causing you to hunger and then feeding you with manna, which neither you nor your fathers had known, to teach you that man does not live on bread alone but on every word that comes from the mouth of the LORD. Your clothes did not wear out and your feet did not swell during these forty years." Deuteronomy 8:3-4
Have faith that God loves you, cares about your needs, and wants to bless you so you can be equipped to bless others (Philippians 4:19).
Jesus is a giver. He is generous in his very nature. Just as he cared about the people during his ministry on earth, he cares about your cries and sees your deepest needs. His love knows no bounds.
Place your faith in him. He will meet your needs—in his way and in his time.
Nourish Scripture: Mark 6
It can be hard to believe God's truth about who you really are. Download Nourishing Your Heart today and discover the key to connecting to God's Word.
---
Blog written by Aliene Thompson. Aliene Thompson is the founder of Treasured Ministries and the Author of the Nourish Bible Study Series. © 2019 Treasured Ministries.