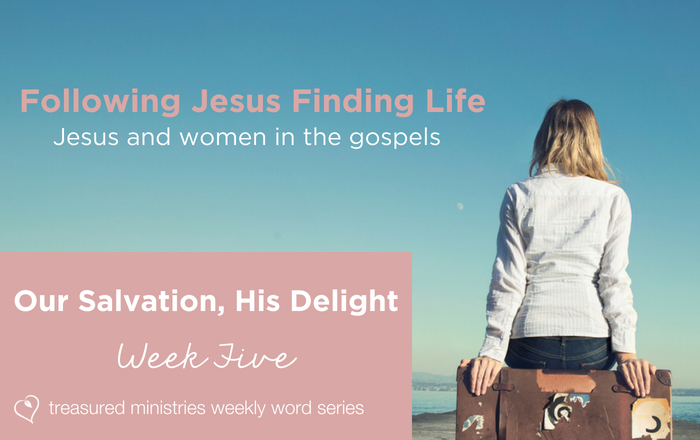 The call that we hear to come to Jesus, to taste freedom, and to lay our burdens down is persistent through every stage of life. Often times the voice of the Father seems drowned out by the burdens we carry, it's hard to hear the call of freedom when we allow chains, already broken, to hang to us.
The call to Jesus is as persistent as the burdens on our backs, but the call of the Father, when answered, is faithful in breaking the burdens every time.
His Eyes Found Her
In Luke 13:10-17 we see Jesus, surrounded by the "righteous" calling to the woman "crippled by a spirit for eighteen years." It was a room full of the "perfect" and His eyes found her.
"When Jesus saw her, he called her forward and said to her, "Woman, you are set free from your infirmity."  Then he put his hands on her, and immediately she straightened up and praised God." Luke 13:12-13
Jesus did not see her, doubled over in darkness, and turn away to rather look to the perfect. He saw her, and he called. This is a perfect God, persistently facing our imperfections throughout His life, and reaching out to them.
He did not stop at calling her and speaking freedom over her life, He reached to her and touched her. He loved with His words, with His deliverance, and with His touch. She had no doubt been left aside by the righteous and abandoned by religion. All too fearful of her burdens, and here she is, being called out to among those who had left her behind, by the King of Kings. 
There was no shame or condemnation attached to the voice that called to her, there was only the intention to see her freed of her pain.
 After healing her, the leader of the synagogue was ready to cast judgement on both Jesus and the woman for the act of healing taking place on the Sabbath.
 "The Lord answered him, "You hypocrites! Doesn't each of you on the Sabbath untie your ox or donkey from the stall and lead it out to give it water?  Then should not this woman, a daughter of Abraham, whom Satan has kept bound for eighteen long years, be set free on the Sabbath day from what bound her?" Luke 13:15-16
Saving Us Is His Delight
Notice that Jesus did not see breaking her free as work, but rather as a given. To rescue us is his delight. It's what He came to do, it's what He wants to do, to see His beloved free. He freed her and brought her to stand straight and look Him in the face, allowed her to worship freely.
Notice also that Jesus' FIRST identification of her was not her burdens, but rather her lineage and identity in relation to Abraham. Christ sees through our burdens to who He has created us to be. He calls to the identity that He has placed in our hearts to be free and then deals with the burdens that are covering our hearts.
When our hearts are weighed down with the burdens of the enemy it can be hard to hear his voice calling to us. It takes faith to believe that the call to us from Him is still there. The promise he gave to us is that it is.
The question is not whether we are being called to freedom, but if we are walking toward the voice that is calling us. Are we letting the call reach our ears? Are we letting ourselves be held or are we too burdened to even look him in the face?
Nourish Scripture: Luke 13:10-17
Discover how to connect with God's Word in a way that transforms the way you live. Download Nourishing Your Heart today!
---
By Millicent Phillips. Millicent is part of the Treasured Ministries writing team. © 2019 Treasured Ministries.