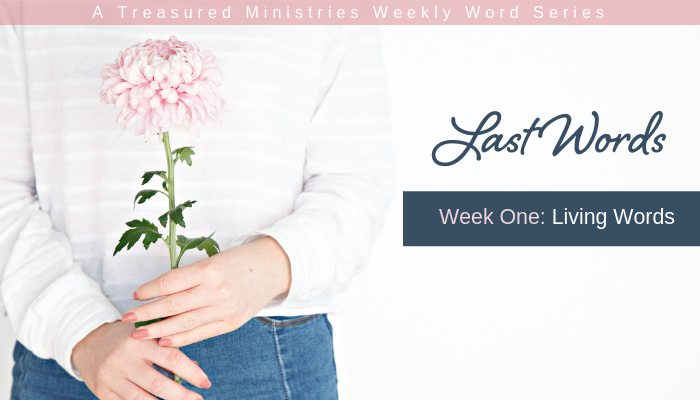 Dear Treasured Tribe,
Imagine you knew you only had a short time left to live and wanted to share a last meal with loved ones.
Whom would you invite?
What meal would you share together?
And most important, what final words would you carefully choose to speak over those who graced your table?
Words matter. But last words can leave a legacy to those you love.
Of course, not everyone knows when their time on earth is coming to an end, but Jesus did.
Before the dawn of time, the Father designed a plan to redeem us from sin through the sacrifice of his one and only Son. Our Savior. Our Lord and Passover Lamb. The time had arrived on God's kingdom calendar for perfect love—and the entire reason Jesus came to earth—to come to pass. The passion of the cross.
"And Jesus knew that his hour had come to leave this world and return to his Father" (John 13:1 NLT).
The Last Words and Actions of Jesus
As with everything he did, Jesus intentionally chose his last actions on earth with divine precision down to every eternal detail to fulfill his Father's plan, including the words he expressed to his beloved disciples over the most significant Passover meal in history. While the Gospels of Matthew, Mark, and Luke record the Passover meal itself, John's Gospel expands the experience over five chapters of Scripture, zooming in to emphasize other events and details, including those last precious words.
And those words breathed the very life of heaven into earth, singing a beautiful prelude to the New Covenant.
Living words.
Eternal words.
Healing words.
Life-giving words.
Glory-defined words.
Tucked carefully inside the Gospel of John, the Holy Spirit preserved those precious words so you and I could savor them today.
Reflecting on these words is important. When we savor these last words, we are reminded of our glorious inheritance in Christ and can stand firm in who we really are and become all God created us to be.
Welcome to "Last Words," a Treasured Ministries Weekly Word Series for Lent on John 13–17. Come and prepare your heart for Easter by gathering around the table with Jesus and hearing those words once more. Let go of the old to embrace the new. In this series, you will . . .
start your week with inspiration by receiving a devotion every Monday designed to draw your heart closer to Jesus as Easter approaches.

savor those last words Jesus spoke as you apply the Nourish Bible Study Method to John 13–17. Want to discover the Nourish Bible Study Method to prepare yourself for your journey? Check out these resources.

reflect and recapture the truth of your New Covenant position in Christ through truth found in John 13–17.

understand the power of the Living Word, what that means, and how you can apply it to your life so you can share these truths with others during Lent to make a difference.
I am beyond excited to share this journey with you!
ONWARD!
Aliene Thompson
Nourish Scripture: John 13
Learn how to spend time in God's Word in such a way that it IMPACTS the way you live by downloading Nourishing Your Heart today!
---
Blog written by Aliene Thompson. Aliene Thompson is the founder of Treasured Ministries and the Author of the Nourish Bible Study Series. © 2019 Treasured Ministries.