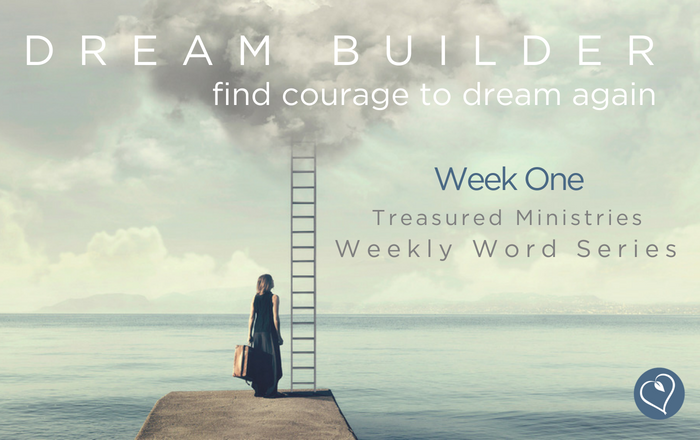 God our Dream Builder is a rebuilder. A God-ordained dream never truly dies, but sometimes our hope does when life falls apart.
To every woman out there who has lost hope to dream: I have been there. But I found hope to dream again through Joseph's story. And you can too.
Joseph lived a life full of trials. But Joseph's trials were merely the stepping-stones that God used to build his will in Joseph's life, which ultimately saved hundreds of thousands of lives.
Welcome to Dream Builder, a six-week study on the life of Joseph. Over the next six weeks you will…
Find courage to dream again as you walk through the story of Joseph.
Lose your fear of failure as you discover that God is a rebuilder—in our weekly devotions taken from the Dream Builder Nourish Bible Study Series.
See offense and adversity as opportunities to build your dream, not obstacles to stop it.
Gain direction to confidently walk in the direction of your God-given purpose as you apply the Nourish Bible Study Method to our weekly Nourish Scripture.
God's Dreams for Our Lives
God's dreams were designed before we were born—to bring him glory (Ephesians 2:10). God places those desires in our hearts as seeds to stir our hearts for a harvest. Often it is the adversity in our life that tills the soil of our hearts in such a way as to provide a greater harvest as we are pushed to depend solely on Jesus.
Our pain becomes our purpose.
Our mistake becomes our message.
Our rejection becomes God's redirection.
Our failure becomes his foundation to build.
However, sometimes when this adversity hits we stop dreaming. Hope fades. God becomes smaller. And then we all lose out because every woman's purpose matters. She is a part of God's plan designed to make a difference.
Brave heart, it is time to dream again. Sometimes our dreams have to fall to the ground to create a greater harvest. Like Joseph, you are created for a purpose beyond yourself. Press beyond life's challenges and move forward with God's dream for your life to become the woman God created you to be.
Forward this blog to a friend and invite her to join you!
Let's do this!
Blessings,
Aliene
---
Blog written by Aliene Thompson. Aliene Thompson is the founder of Treasured Ministries and the Author of the Nourish Bible Study Series. © 2019 Treasured Ministries.