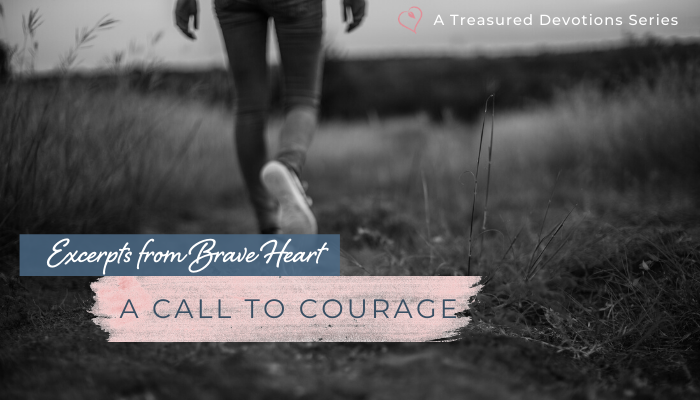 Hey there, brave heart!
Yeah—that's you!
If you and I grabbed a cup of coffee and talked long enough, I'm sure we could share stories about times when we found ourselves alone, afraid, and unsure. We could tell about times when other people's choices—or our own—hurt us. Ours is an imperfect world with imperfect circumstances and imperfect people—and life happens. We would like to control everything and everyone so we won't get hurt, but we can't.
In the past, I tried to fix my broken heart with inner vows, which I viewed as formulas to fix and control my world so I could find freedom, redemption, happiness, and peace. Sadly, all such formulas eventually fail us. Mine did. But in the failing, I found this truth that would ultimately set me free: healing my broken heart could never come from inner vows or rules I keep, but from a Redeemer I follow.
Jesus turns broken hearts into brave hearts one step of faith at a time.
Becoming a Brave Heart As You Follow Jesus
Brave heart, did you know when you became a child of God at the moment of salvation, that was just the beginning of your journey? As you follow Jesus, he'll unravel those false formulas that provided no rest for your soul, and lead you to experience the abundant life you were created to live. I too am still on this beautiful, lifelong journey.
Our past wilderness seasons should not be allowed to become permanent walls that eclipse the liberty and love that flow from obeying the Holy Spirit. Freedom is not a destination; rather, it's a journey of living as we are led by the Holy Spirit to become all God created us to be. Where the Spirit of the Lord is, there are liberty and love (2 Corinthians 3:17; 1 John 4:8).
Just as it was time for the Israelites to leave the wilderness and follow Joshua into the Promised Land, it's time for us to understand in greater measure what is holding us back from becoming all God created and redeemed us to be.
Welcome to Excerpts from Brave Heart, the next series from Treasured Ministries on the book of Joshua. Inside the series you will:
Understand how patterns of unbelief influenced by your past can impact your thinking and create obstacles to becoming the woman God created you to be.
Gain powerful biblical methods to change your thinking and walk out your God-given purpose.
Discover how to embrace your core authentic identity and live the abundant life Jesus died to give you.
Walk through the book of Joshua to find truth to nourish your heart and direction for your own Promised Land Purpose.
Who do you know that would benefit from this study? Invite friends to come along!
Ready to move forward into your Promised Land? Don't look back! Live with impact by letting the Holy Spirit lead you to the liberty and love your heart was designed to experience—and to pass this along to others.
I am looking forward to taking this journey with you, brave heart!
Blessings,
Aliene
---
Blog written by Aliene Thompson. Aliene Thompson is the founder of Treasured Ministries and the Author of the Nourish Bible Study Series. © 2019 Treasured Ministries.