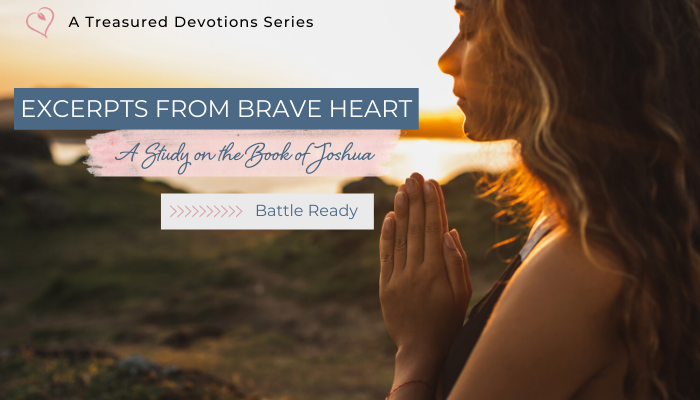 Are you getting ready to face a battle? Today's devotion is just for you.
Safely on the other side of the Jordan, the Israelites set up a base camp at Gilgal. Before the Israelites moved out from their camp to capture Jericho, they had to take care of some family business to prepare them for battle. Circumcision reestablished their identity with the covenant God had made with Abraham. Eating the Passover meal, the Israelites celebrated God's mighty power to deliver them.
I believe God wanted them to remember in the days to come, inside the heat of the battle, that God was with and for them.
The Enemy Wants Us to Believe We've Been Abandoned
Adversity never means Jesus has abandoned you. But beware—that is exactly what the enemy wants us to believe. The enemy of our soul capitalizes on catastrophe by whispering sinister lies in our ears: "If God really loves you, he wouldn't allow this to happen. He has abandoned you." Or even worse: "There is something wrong with you, and that is why all this has happened."
Are you walking through a battle? Do you want to shout at the top of your lungs, Jesus, where are you?
Or do you look around at our world and ask, Where is God if there is poverty, sex trafficking, and abuse of women that abound in this world?
Jesus, where are you? I've experienced that silent scream in my soul. How about you?
God Is with Us in Battle
When faced with adversity, we sometimes feel God has abandoned us. But God's Word assures us that he will never leave us and he is with us. The world is a battlefield where brave hearts make a difference.
Which voice will we believe?
How Communion and Baptism Help Us Remember
Much like Passover and circumcision, communion and baptism are respectively two disciplines of the Christian faith designed to help us remember God's faithfulness and our identity in Christ in the middle of our broken world filled with battles.
Communion is a wonderful way to remember our new covenant position. On the eve of Jesus' crucifixion, the disciples celebrated the Passover with each other. The events that followed would test their faith. Jesus wanted them to remember that he was the Passover lamb and that his death would bring victory.
Baptism is the public outward sign of what Christ did inwardly the moment you became a Christian. When you became a Christian, Jesus circumcised your heart by the Holy Spirit and made you dead to sin but alive to Christ (Romans 2:29). Just as circumcision did not make Abraham righteous (Romans 4:11), baptism does not make you a Christian. In baptism, we identify with Christ's death, burial, and resurrection. We are saying publicly, "My identity is now in Christ. My old self was crucified and he lives in me. Through my faith and reliance on the power of God, I can now live for God."
The Lord told Joshua, "'Today I have rolled away the reproach of Egypt from you.' So the place has been called Gilgal to this day" (Joshua 5:9).
Egypt symbolizes slavery to sin and shame. The word reproach means in Hebrew a taunt, a scorn, resting upon condition of shame, disgrace. The Bible says that Satan accuses and taunts Christians day and night and fills them with shame (Revelations 12:10). The enemy can use battles to shame us telling us that there must be something wrong with us.
Condemnation is never from God. Christ rolled away our shame through his sacrifice. If you feel like a bad Christian, Satan is trying to make you feel defeated by accusing you. Open your mouth and say, "Jesus rolled away my reproach, and your tactic to make me feel unworthy to be a Christian does not work anymore."
Brave heart, it is during the battle that you need God the most. Shame is toxic because shame separates us from our mighty God!
Prepare for Battle by Standing in Truth
Gilgal means a wheel or rolling. Joshua and the Israelites will retreat to Gilgal again and again. We must continue to meditate on the truth of who we are in Christ to renew our minds and to be transformed. We do not learn it once and rest. We remind ourselves repeatedly so that when the attacks come, we can stand in the truth.
Remember your baptism and all that it symbolizes. Celebrate communion often and see it as an opportunity to remember who you are in Christ.
When faced with a battle, you can be a Christian and still struggle with your identity in Christ. Although God sees you as a new creation and in complete right standing with him, you may believe something completely different. Our actions will always follow our belief system.
Remember your new identity through baptism and communion. Christ, your Passover lamb, has been sacrificed. His blood of the new covenant was poured out for the forgiveness of your sins. You have been raised to new life.
After the Israelites crossed over the Jordan River, the manna went away and they ate the fruit of the land.
Take another look, a good look, at your new covenant position in Christ. The same Holy Spirit that empowered the early church is on the table. Your new identity is in Christ. In Christ, you are God's child. The power and penalty of sin have been destroyed. God has made you an eagle . . . and you are meant to fly (Isaiah 40:31).
Nourish Scripture: Joshua 5
---
Blog written by Aliene Thompson. Aliene Thompson is the founder of Treasured Ministries and the Author of the Nourish Bible Study Series. © 2019 Treasured Ministries.