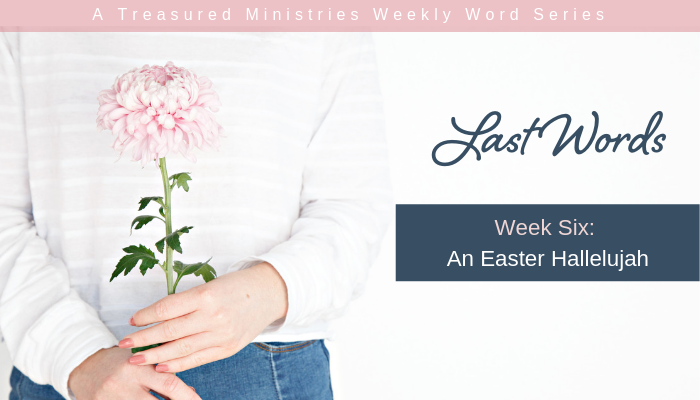 On Easter, we celebrate the powerful message that Jesus has risen.
The gospel of John records that precious moment when Mary Magdalene could not bring herself to leave Jesus' empty tomb…
Weeping, she turned from the angels still in the tomb and saw a man she assumed to be a gardener. But when Mary realized the truth—that her Savior was standing before her—she ran into his arms. Jesus told her, "Go and tell the disciples I have risen." Her countenance changed and off she went to carry out her task.
What a difference knowing the truth made in the way she lived.
What a difference it makes in all our lives.
What a difference in the lives around us when we take on the task of sharing the good news that Jesus is risen with others.
Praise be to God for his living word which makes a difference in our life. We can let go completely of the old covenant to celebrate the new!
Jesus Is Still Turning Broken Hearts to Brave Hearts
It touches my heart the way Jesus revealed himself to a woman on Easter morning.
He called Mary by name. He turned her weeping into something wonderful.
That's something to celebrate. Because He lives, Jesus is turning tears into triumph. Broken hearts to brave hearts.
Jesus is still speaking to hearts today as we seek Him through His Word in the power of the Holy Spirit. God's Word written on our hearts through the Holy Spirit goes beyond knowledge and makes a lasting impact on us—and through us makes a difference in the lives of those around us.
Turn your weeping into something wonderful as you seek Jesus through his Word.
For your Easter Week, we invite you to enjoy a poem Millicent Phillips has written about, print a copy for yourself and share one with a friend! Click here to view the poem.
Nourish Scripture: John 20:11-18
Do you want to find more peace and joy from your connection with Jesus? Download Nourishing Your Heart today to learn how!
---
Blog written by Aliene Thompson. Aliene Thompson is the founder of Treasured Ministries and the Author of the Nourish Bible Study Series. © Copyright Treasured Ministries 2019