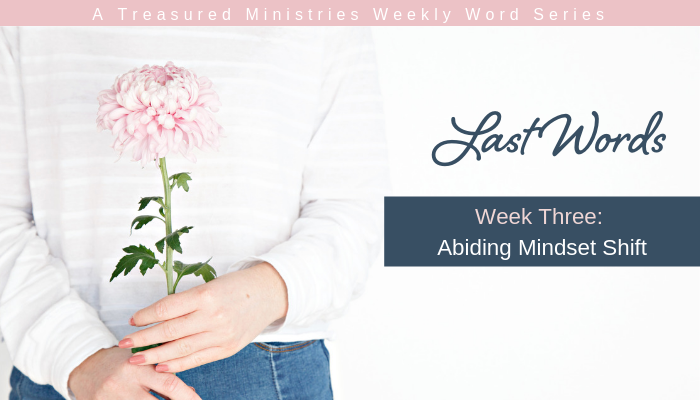 Jesus Christ holds out his hand and reaches beyond your past, your mistakes, your imperfections, and your shame with this invitation: Come just as you are. Abide with me. As you connect with me, you will prosper with the fruit of agape love to fulfill the primary command of the new covenant—loving others as the Lord has loved you.
And while this sounds so beautifully simplistic, the enemy of your soul will often tempt you to try manufacturing this fruit on your own.
This temptation is deceptive because it appears righteous. But Jesus made it clear that our efforts, no matter how noble or great, cannot enable us to bear fruit.
It's all about him.
"I am the vine; you are the branches. If you remain in me and I in you, you will bear much fruit; apart from me you can do nothing." – John 15:5 NIV
Experiencing Frustration in Your Walk
Are you frustrated in your walk with Jesus? Yeah, sometimes I find myself there too…
I have discovered that the solution is not to work harder but to shift my mindset. My frustration comes from trying to pour new wine back into old wineskins. I learned that to get back on track, I have to shift my thinking. How about you? Are you ready to do that?
It's time to change your focus to the abiding mindset.
Effort, no matter how great, placed in the wrong direction is not effective. The lack of fruit in our lives is not from a lack of effort but effort placed in the wrong direction.
Plugging into the presence of Jesus grows healthy roots that lead to healthy fruit. Frustration in our walk with Jesus can surface when we slip back into the old covenant mentality by striving to keep religious rules instead of finding the strength of lasting transformation in a relationship with Jesus.
Authentic healing happens from a heart nourished by the source of life. The Nourish Bible Study Method can help you make this a reality in your life by transforming your approach to Bible study.
What Is an Abiding Mindset?
An abiding mind–set chooses to place efforts in the right direction.
Abiding, dwelling, and remaining with Jesus means staying close to him through a personal intimate relationship. It is the choice to receive agape love, increasing your capacity to fulfill the command of the new covenant: love others as Jesus has loved you.
Abiding is a mindset that chooses to believe God works all things for your good.
Abiding means you will experience pruning.
Intimacy with Jesus is not the absence of adversity. God works through the grit of life to create pearls.
Sometimes the Lord's most glorious gardening is cultivated through pruning (James 1:2–4). When you experience pruning, don't pull away. Instead, press into the Lord by believing God is for you.
Abiding is a mindset shift that elevates your prayer life to a boldness that bears the name of Jesus (John 15:7).
One year the Lord revealed to me that while I had no problem praying bold prayers for my family and friends, I was reluctant to ask God boldly in prayer for what I needed. When I sought the Lord, asking him why, he showed me that the issue lay in unbelief and the pride of self-reliance.
Also, God showed me that lies from the enemy that I was not worthy enough were NOT TRUE!
Abiding is choosing authentic humility as you depend on the Father through bold prayer.
The pathway of surrendering your self-reliance opens your arms wide to receive from God. All prayers are submitted above all to God's will—his plan and timing (see Luke 22:39–46). You can pray with confidence and then rest in the absolute assurance that God loves you. Don't decide for him by praying small!
Shift your mindset. Start today by diving into what abiding means through our Weekly Nourish Scripture, John 15.
You are God's child. Jesus Christ holds out his hand wanting to spend time with you. Joy and agape love . . . provision through prayer . . . essential nourishment for the soul . . . becoming the woman God created you to be . . . are all waiting for you.
Weekly Nourish Scripture: John 15
Discover how to connect with the nourishment every Bible passage has for your life. Download Nourishing Your Heart today!
---
Blog written by Aliene Thompson. Aliene Thompson is the founder of Treasured Ministries and the Author of the Nourish Bible Study Series. © 2019 Treasured Ministries.