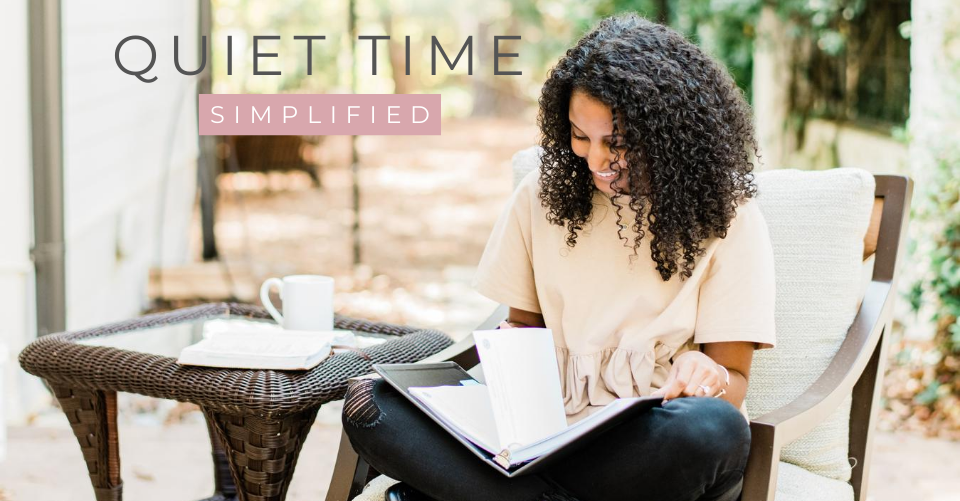 Your Quiet Time Simplified
Have you ever discovered so much truth in God's word that you wished you could store all of those bits of nourishment in one easy-to-find place?
If you are like most women, you can become overwhelmed in this busy world of ours with all the information coming at you. You crave simplicity yet are inundated with complexity.
Connecting with God's encouraging words is difficult in the midst of a busy schedule. You need resources that you can access anytime and anywhere—on your morning commute, sitting in the carpool lane at your child's school, or during a stroll around the block when you need a breath of fresh air.
The twists and turns of our schedules, to-do lists, jobs, and even family time can slowly disconnect us from the One who tells us to cast our cares on Him. You need a key that gives you instant access to hear, read, or meditate on God's word anytime. Because with the right set of keys, you become connected to the One who wants to carry your worries.
Sometimes we need help simplifying our lives and connecting with what really matters. From the connection we have with Jesus, we can live out of the abundance of God's love.
"The resources available through the Treasured Tribe with the Nourish Notebook have truly been life changing to me. After a period of difficult years not hearing much from God and reading His word most mornings for an hour, It wasn't until I learned the Nourish method that slowed me down enough to hear from God daily and face life with joy again."

Mary Burr Edwards
Stay Connected with the Treasured Tribe Membership
Get Rid of Quiet Time Guilt
Wouldn't you agree that life doesn't always go as planned? We may have the best of intentions to dig deeper into God's word and set aside quiet time, yet days pass and we continue to live on fumes rather than on fire.
This is not your fault. In biblical times, it was part of the culture to intentionally rest on the Sabbath. It was a way of life that was woven into the fabric of the week. When everyone around you stopped to spend time in God's presence, it made it easier for you to do so as well.
But today we find ourselves on the opposite side of rest. Everyone around us is forging ahead through the week, stopping for nothing. We find ourselves doing the same simply to keep up. If we aren't around others who pause in the presence of God, it seems like an impossible task for us.
Guilt about the time we aren't spending in God's word begins to creep in, and insecurities about who we are and doubts about our purpose soon follow.
As life happens, we can find ourselves weary and tired, longing to find peaceful rest—not to do more but to connect more with the nourishing words of Jesus.
What would happen if you changed your goal from completing your study to connecting with Jesus?
At Treasured Ministries, we want to make that connection easier for you by providing ways to weave it into your busy life.
That's the purpose of the Treasured Tribe® Membership: to help you stay connected to Jesus, anytime and anywhere.  
"As a mom of three that works, it's hard to find that dedicated time to stay in God's Word. My Treasured Tribe Membership helps me to stay centered on Christ in the midst of the whirlwind that life brings. When I am grounded in his love, I can give this to others. Thank you!"- Emily B.
Stay Connected with the Treasured Tribe Membership
Find Life Balance and True Rest by Connecting with Jesus
Matthew 11:28-30 says this…
"Then Jesus said, 'Come to me, all of you who are weary and carry heavy burdens, and I will give you rest. Take my yoke upon you. Let me teach you, because I am humble and gentle at heart, and you will find rest for your souls. For my yoke is easy to bear, and the burden I give you is light.'"
Many of us know this passage by heart, yet we still try to find rest apart from Jesus.
Treasured One, we find rest in our connection with Jesus. His gentle and humble words refresh our weary souls. He wants us to come as we are and connect with Him so He can teach us about our purpose.
The Gospel of Luke records a community of women who followed Jesus to take care of his needs as he ministered to others (Luke 8:1-3). For these women, connection with Jesus was not complicated. It was woven into the fabric of their lives as they walked with him on a daily basis.
What a difference this made in the way these women lived surrounded by Jesus' words every day. What a difference it makes in all of our lives today. That difference ripples to the lives around us.
When we connect with Jesus, we find strength knowing truth. You can live with balance, confidence, purpose, and direction when you've centered your life on Christ. Finding a tool that helps you pause from the hustle of life is the key to cultivate this daily connection for true rest.
This is the purpose of the Treasured Tribe® Membership. It is a tool that helps you stay focused and balanced on God's truth by keeping all of your resources in one place—making connecting to and navigating God's word simple.  
"I have read so many Bible studies before, but none that have touched my heart as much as the Treasured Tribe. The old saying "a must-read" clearly does not fully express the recommendation to read, listen, and enjoy all the content from the Treasured Tribe."

Tina Beauchamp
Stay Connected with the Treasured Tribe Membership
What to Expect with Your Treasured Tribe® Membership… 
The Treasured Tribe Membership gives you access to all courses, classes, and content in one easy-to-find location. For as low as $5.75 per month (billed annually) you can have everything you need to study right at your fingertips anytime and anywhere with online materials. Study at your own pace or review your favorite study with a group.
Treasured Tribe Membership Benefits:
The Treasured Tribe® Membership is available for a monthly or annual subscription. Choose the plan that is right for you!
Sign up Bonus! Get the Nourish™ Notebook FREE!
When you sign up for a Treasured Tribe membership we will send you a copy of the Nourish™ Notebook Paperback Edition for FREE! It's our way of saying, "Welcome to the Tribe!"
Stay Connected with the Treasured Tribe Membership
Bible Studies For Women that Simplify Connection
You can sign up for access to the Treasured Tribe® Membership today for only $5.75 per month (when billed annually). With a library of resources, you can pick the study or online course that speaks to your heart when the time is right for you. Your Bible study time can be flexible and customizable, allowing you to eliminate quiet time guilt and unwrap the nourishing words of God exactly when you need them most. And best of all, you are joining together with other women and with Treasured Ministries to make a difference! 
Now you won't miss a single Treasured Ministries study or resource ever again. And you can always review the words that have made a lasting impact on your life whenever you'd like. You can also cancel your subscription at any time.
Don't let words from your past keep you bound by insecurities. Connect every day and anytime to the One who gave you a new life and is writing a new story on your heart. The most powerful way to break through guilt and insecurity is by staying connected to God. Then you will have everything you need to do all that He has called you to do.
Stay Connected with the Treasured Tribe Membership