---
---
The 21-Day Challenge Video E-Course
---
Discover a grace-based daily process to transform your life through the power of God's Word
---
Develop the life-changing habit of spending time in God's Word
Master the Nourish Bible Study Method
Get everything you need to get started with the Nourish Notebook.
---
---
---
---
Spending Time in God's Word to Become the Woman He Created You to Be
Habits tend to stick with us—whether they are productive or destructive. Those habits are often formed from the circumstances of our lives. Through past hurt and pain, we find ways to cope that begin to write a different story on our hearts and a habit is formed.
The past can lead us to believe there is no true habit that can unlock the freedom we long for—the freedom that releases blessing and purpose into our lives.
Developing habits that change our lives for the good is something we all seek. No one can argue that when we feel confident, courageous, and capable, it is because somewhere in our souls we've connected with something—or someone—that gave us purpose.
Brave Heart, the enemy of your soul wants to keep the key that unlocks a life-changing habit hidden from you. He uses distractions all around us so that we can't see the treasure that is placed before us—God's Word. He knows if you connect with the One who gives you purpose, your life will be forever changed.
The words that God has written in your story have been specifically chosen just for you. He wants to reveal them to you as you connect with Jesus. But too often the enemy tries to use the dust of your past to cover up the treasure God has waiting for you.
"He raises the poor from the dust, He lifts the needy from the ash heap to make them sit with nobles, and inherit a seat of honor…"—1 Samuel 2:8
The words life speaks to us are like dust that can cover truth for a time. If the dust becomes too thick, then we can't see the gem that lies beneath.
But once you know the gem is there, and you have the tools to start clearing the dust away, the brilliant and bold beauty of life-changing truth begins to shine through.
"Make them holy by your truth; teach them your word, which is truth."—John 17:17

Spending Time in God's Word | A Life-Changing Habit That Leads to Inner Healing
As women, we hear words all the time that are not a reflection of our true identity. Maybe people in our lives have assigned words to us, or perhaps we've unintentionally given them to ourselves.
In the process, others have written our story. These hurtful words are like keys that lock up the true you—who you were created to be—and you cry out to connect with the One who can set you free.
You might think the words that have been spoken into your life long ago don't matter much today. But those words are often the lens from which we view and navigate the life we live.
"Gentle words bring life and health; a deceitful tongue crushes the spirit."—Proverbs 15:4
Words link us to the source from which they come. The words we allow to influence us often determine our actions and responses. When painful words have taken up residence in your soul, it takes a powerful key to unlock truth that connects you to the eternal life source—Jesus.
"For the word of God is alive and powerful. It is sharper than the sharpest two-edged sword, cutting between soul and spirit, between joint and marrow. It exposes our innermost thoughts
and desires."—Hebrews 4:12
God's Word is the only key that is powerful and precise enough to begin to split apart the soul hurts from our past from the eternal truth that comes with a promise.
"'For I know the plans I have for you' declares the Lord, 'plans to prosper you and not to harm
you, plans to give you hope and a future.'"—Jeremiah 29:11
Our souls need to be nourished by the gentle and loving words of Jesus. His words invite us into His presence, set us free, unlock our purpose, and rewrite our story.
"So the Word became human and made his home among us. He was full of unfailing love and faithfulness."—John 1:14
When His Word is used to renew your spirit every day, it keeps you connected to the abiding love of Jesus, moment by moment.

Forming a Life-Changing Habit
Habits are formed over time. The challenge for many of us, as women, is time. It's something that we always feel we don't have enough of.
At Treasured Ministries, we want to present you with a challenge.
Watch for ways God, the One who created time, multiplies your time as you develop a life-changing habit by being in His Word.
We recognize this sounds counter-intuitive, but as you develop a daily habit of spending time in God's Word, you'll notice something begin to take place…
In times of insecurity, the Holy Spirit will reveal God's voice to you so that you'll know what steps to take.
In times of fear, you'll be able to pause and respond out of a place of peace and love because you remember who you are in Christ.
In times of haste, you'll be able to renew your mind with His promises that calm and nourish your soul.
As you develop a habit of finding nourishment in God's Word, you naturally begin to walk with confidence, courage, direction, and purpose.
Sometimes, starting something new can feel overwhelming and unachievable. But the truth is that God wants our souls to prosper. He wants to refresh your dry soul with fertile soil that will grow good fruit.
So, as you start out this challenge, ask Him to prepare your soul to prosper with purpose by giving you a soft heart that is ready for change.
Remember, when we connect with Jesus, nothing is impossible.
"With man this is impossible, but with God all things are possible."—Matthew 19:26
"For I can do all things through Christ, who gives me strength."—Philippians 4:13v
Jesus wants us to lean into Him for our strength. When we press into the sweet words of our Savior, we are given abundant life!

Are You Ready for a Life-Changing Challenge?
Before we discover the tools that we need to have an intentional meeting with God, I want to ask you…
Are you tired of Bible studies that, while having good intentions, make you feel like you aren't measuring up if you haven't done all the homework?
Are you finding it difficult to sit down and read a passage from the Bible, struggling with how to apply it to your life?
Are you searching for a way to be able to take any passage from the Bible and meditate on it as a way to have a deeper connection with Jesus?
If you answered "Yes!" to the questions above, then the Nourish Notebook with the 21-Day Challenge is for you. When you sign up for a Treasured Tribe Membership we will send you a Nourish Notebook and give you access to the 21-Day Challenge. Scholarships available.
Often, we start daily devotionals with the intention to form a habit of getting in the Word. Devotionals are great opportunities for us to grab bits of nourishment for our day, but when we take a passage and apply the Nourish Bible Study Method to it, the Words of God are unwrapped and given to us as a gift that connects us to Him.
That is the purpose of the Nourish Notebook. We'll take a deeper dive into the Nourish Bible Study Method, which plants seeds that grow into a lifestyle for living out your God-designed purpose over the next 21 days.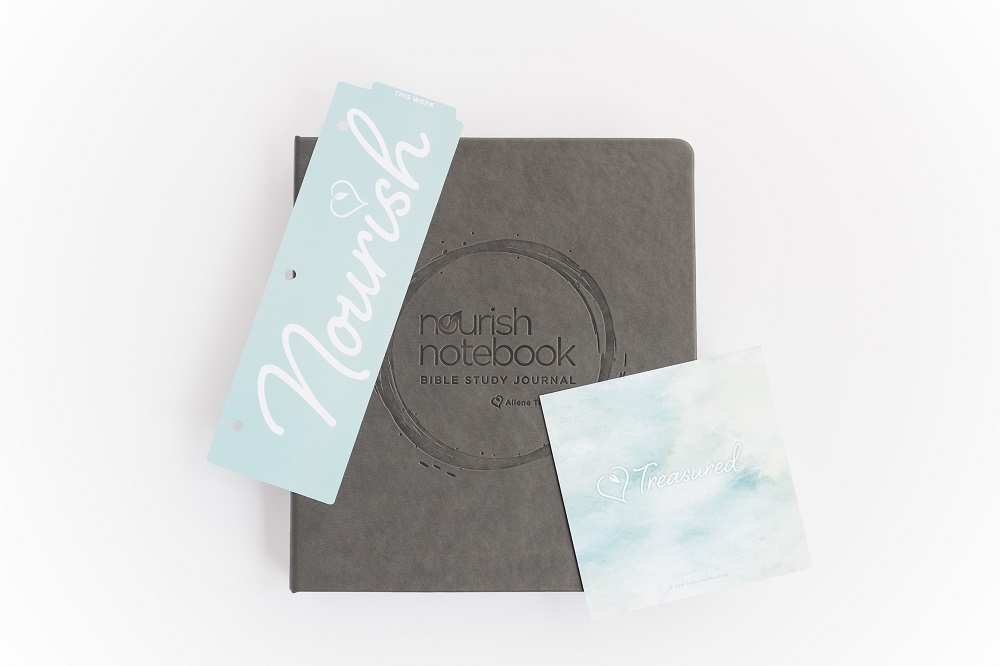 What to Expect from the Nourish Notebook
The Nourish Notebook is a customizable tool that guides you through each step of the Nourish Bible Study Method in a way that allows you to…
Prepare your heart to receive refreshing words from God
Lift up purposeful and intentional prayers to God
Hear God's voice and gain direction to become the woman He created you to be
Surrender your cares and worries to God through biblical meditation
See attributes of God you may have never noticed before
Boldly approach the throne of grace and ask for what you need with expected thanksgiving
The Nourish Notebook is as unique as your purpose. We want it to be tailored to fit your needs, so we made it customizable. You can add the pages you need for your journey.
Get everything you need to get started with success
We understand that having someone walk alongside you as you form a new habit with new tools is essential. This is why we want to gift you bonus material to help transition into this next chapter of your life.
When you join the Treasured Tribe you'll also receive 21 life-changing videos that will take you through 3 weeks of authentic, faith-filled encouragement.
Why 21 Videos?
Changing habits is hard, but when we are given tools that help us stay consistent for 21 days, the transformation tends to stick! God knows you are ready for change, and He wants you to have every opportunity to connect with Him so you can walk in your faith-filled purpose.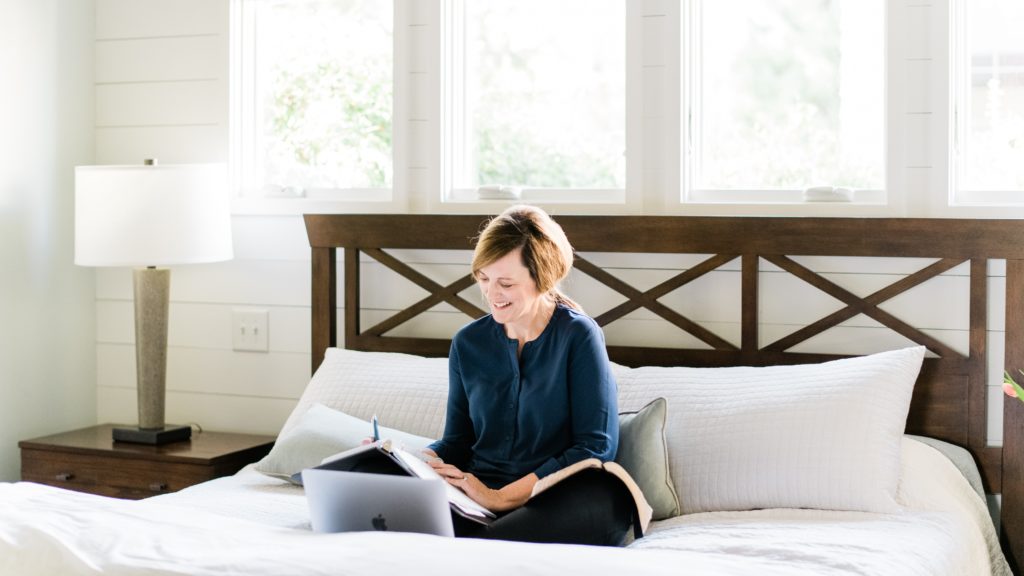 What to Expect from the 21-Day Challenge
As the name implies, it's going to be a challenge, but don't let the enemy pull you off the path with fear and insecurities.
The challenge's intention isn't to "see if you can accomplish" something. Its purpose is to "watch what happens as you connect with Jesus!"
In 21 days…
Discover deeper application of the Nourish Bible Study Method and learn how to study the Bible step-by-step to find truth for the life you were created to live.
Gain a daily grace based process to transform your life through the power of God's Word.
Encounter the life-changing effects of God's Word as you apply the Nourish Bible Study Method and connect with Jesus
Apply the truth and create an impact for your life and the lives of those around you.
Gain a practical method and put the life-changing discipline of biblical meditation into your daily routine to change the way you think and live.
Learn how to discern when God is speaking to you personally through His Word and gain confidence and direction.
Without an applicable plan, studying the Bible can seem like an overwhelming task or a religious duty instead of the life-giving and life-changing experience God intended.
At the end of this challenge, you will have in your hands a tool that helps you study the Bible for a lifetime.
You'll know with confidence that you can press into Jesus and lean on the Holy Spirit to guide you with the words of truth so you can continue down the path that God has created for you.
"The LORD says, 'I will guide you along the best pathway for your life. I will advise you and watch over you.'"—Psalm 32:8
So, together let's start our journey of uncovering a new approach to Bible study that's designed to reveal God's voice and direction for your life.
This is Day 1 of the Rest of Your Life!
You can get started today by signing up for the Treasured Tribe.
Every day you'll turn a page in your Nourish Notebook that will open up more of God's plan for your life. With the 21-Day Challenge, every day spend a few moments viewing the video, unpacking timeless truths, and then watching as God begins a new work in you!
"I am certain that God, who began the good work within you, will continue his work until it is finally finished on the day when Christ Jesus returns."—Philippians 1:6
As you take this step of faith, you are making a difference. Oftentimes we hear God's voice directing us and we ask, "Will this small step really make a difference in my life?"
Hear this, Brave Heart: There is no such thing as a small step to God. Every step that He asks you to take connects you to your purpose and makes a difference. When we walk in our God-given purpose, we glorify Him and leave blessings for others in our wake.
Don't miss out on another day of walking with confidence and assurance knowing that God wants to lead you into a life changed.
Take that step of faith today!