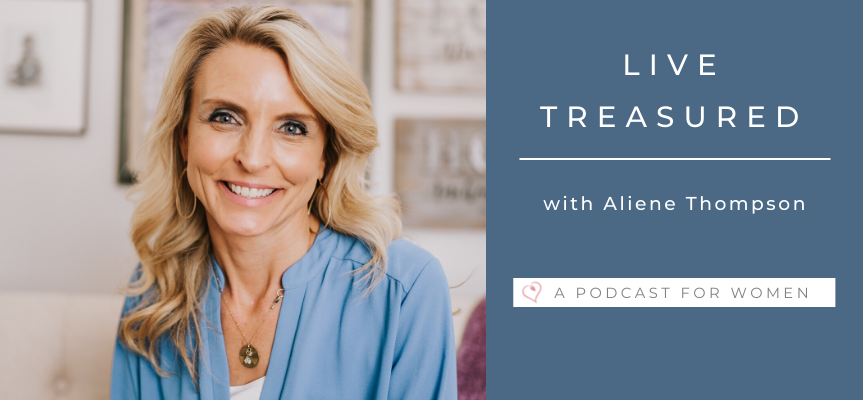 Gain Strength by Leaning into Jesus and Pushing Back the Insecurities of Your Past
The Live Treasured podcast exists to give women a faith-based approach to heal soul hurts by unlocking timeless truths throughout scripture that reveal the steps we can take today to make a difference for our tomorrows.
Join biblical soul strategist, author, founder of Treasured Ministries and creator of the Nourish Bible Study Method, Aliene Thompson as she teaches from God's Word. Discover truth. Experience freedom. Live treasured. Check out our latest episodes here!
When I first gave my heart to Jesus, I mistakenly thought, 'Okay, that's it! I'm all secure and good to go now.' So, when I hit struggles and trials, I thought to myself, "There must be something wrong with me that needs to be fixed." I wasn't even aware at the time how my past was still steering my future. I later discovered that the lies were far from truth and I was unknowingly agreeing with them. The lie that I could fix myself. The lie that once I gave my life to Jesus, I was done growing. These lies made the soul hurts from my past resurface. I felt far from satisfied. But God wanted to take me higher by changing my perspective through a daily walk with him. I am still on that journey today. Read more of my story here. Join me each week and together we will unlock truth to live with confidence to become all God has created us to be.

Aliene Thompson
What Others Are Saying…
Without God it's impossible and Aliene is speaking God's truth. At times I can't even begin to understand the Word myself because of pain but Aliene speaks it loud and crystal clear to me. I sit sometimes and just say Amen, Amen, Amen!

Valerie
These podcasts are uplifting and educational for Godly direction for real life struggles. Aliene has an incredible knack for pulling profound nuggets of Truth from any topic and then applying a Biblical perspective to illustrate it. She is real, down to earth, and inspiring all at the same time!

Carla
Aliene is an amazing servant of God with a gift for illuminating God's word and encouraging a deeper longing for God and a sweeter desire to hear the voice of the Holy Spirit! She inspires courage… to step out in faith into God's personal calling on your life!

Patti
I love listening to the Live Treasured podcast. Aliene skillfully uses her God given talent to impart wisdom to women and encourages them into a deep and meaningful relationship with Christ. She speaks to the hearts of women and encourages them to live out the life that God has called them to lead.

Emily B.