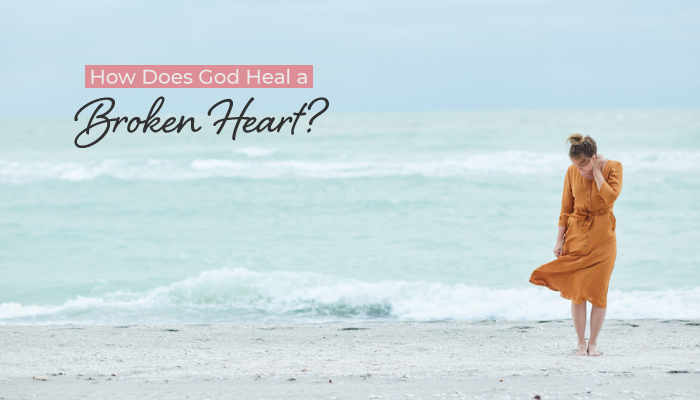 The Bible says that the Lord "heals the brokenhearted and bandages their wounds" (Psalm 147:3). Treasured One, do you believe these words today?
There is an enemy of your soul who wants you to doubt these faithful words of God. But today, his lies are going to be exposed and you are going to walk away with the understanding that power of God heals a broken heart.
How Our Hearts Break
There are many reasons why our hearts become broken. Behind every reason are words. Words matter. They carry a tremendous amount of power. While we'd like to think "words can never hurt me," or don't carry any weight, yet this often is not the case. In fact, hurtful words roll off the tongue of someone and hit the drumbeat of our souls.
That drumbeat starts a pattern of negative thoughts. When we've experienced wounds from words, they can continue to haunt us, causing us to feel…
When left untreated, the unseen scars repeat the hurtful words over in your mind like a broken record. The "You ares" you've heard spoken over you become the "I ams" for which your soul beats.
But there is good news, Treasured One. God's words are more powerful than your past, or the whispering lies of the enemy in the present. Connecting to God's Word is what begins to heal our broken hearts.
Good News—God Heals a Broken Heart!
To start healing from a broken heart, fill your mind with God's Word. Understand this is a process—a process of identifying the lies, agreeing with God's Word, and renewing your mind on His truth every day—moment by moment.
Because God heals a broken heart through His words, here are 7 promises from God for you to meditate on today…
"'I am leaving you with a gift—peace of mind and heart. And the peace I give is a gift the world cannot give. So don't be troubled or afraid.'"—John 14:27 (emphasis mine)
"Trust in the Lord with all your heart; do not depend on your own understanding. Seek his will in all you do, and he will show you which path to take."—Proverbs 3:5-6 (emphasis mine)
"'And I will give you a new heart, and I will put a new spirit in you. I will take out your stony, stubborn heart and give you a tender, responsive heart.'"—Ezekiel 36:26 (emphasis mine)
"The Lord is close to the brokenhearted; he rescues those whose spirits are crushed."—Psalm 34:18 (emphasis mine)
"We are pressed on every side by troubles, but we are not crushed. We are perplexed, but not driven to despair. We are hunted down, but never abandoned by God. We get knocked down, but we are not destroyed."—2 Corinthians 4:8-9 (emphasis mine)
"But forget all that—it is nothing compared to what I am going to do."—Isaiah 43:18 (emphasis mine)
"And we know that God causes everything to work together for the good of those who love God and are called according to his purpose for them."—Romans 8:28 (emphasis mine)
Here's How God Heals a Broken Heart
God Heals a Broken Heart as We Are Aware of Our Thought Life
The more time you start spending in God's Word, you will see glimpses of his glory inside this broken world. As you read passages—such as Ephesians 1:5 that says you are predestined for adoption through Christ, or Romans 6:6 that says the old self was crucified and is no longer a slave to sin—stop and identify the lies you've been told that say otherwise.
The thoughts that go against God's Word are begging for your attention. This is why 2 Corinthians 10:5 says to destroy proud obstacles that keep you from knowing God. These negative thought patterns keep your heart broken and from seeing glimpses of God's glory.
But when we surrender our thought to God, healing begins to take place in our souls.
God Heals a Broken Heart When We Embrace Our Identity
Our identity in Christ is the key to your offensive weapon inside the battle of your heart. Your identity speaks words into every thought you have. This is why you must renew your mind and affirm your identity every day.
As you may know, this is a key element of the Nourish Bible Study Method. We write down and affirm who God says we are, and we declare who He is. This shifts our thoughts to "forget about the past," as the Lord said to Isaiah (Isaiah 43:18), because it is nothing compared to what he is about to do in your life.
Aligning your identity with Jesus is like an eternal thread that connects you to heaven. The Holy Spirit's voice will become louder in your life, leading you into healing and purpose.
God Heals a Broken Heart When We Agree with His Word
As God affirms our identities, the enemy will attempt an attack. At that moment we have a choice. Will we agree with…
The words from our past?
The words from the enemy?
The Word of God who gave you a new heart?
Whichever words you agree with will be the ones that rules in your thought life.
Treasured One, it is time to take hold of the sword of the Spirit, which is the Word of God, and speak truth over your life.
Beware—The Enemy Seeks to Attack the Heart That God Has Healed
This is important to understand: The enemy seeks to attack what has been healed. When you are tempted to fall back into negative thought patterns or to declare self-deprecating words, go back to God's Word!
There is a battle for your heart. As much as there is a God who loves you, there is also an enemy who plays a tune, knowing the drumbeat of words in your past, waiting for you to start walking in tempo with it.
But when you acknowledge the pain, identify the lies, and surrender it all to Jesus, God's words will begin to restore and heal your broken heart.
Know that this journey of faith isn't easy, but it is blessed. Healing always starts with surrendering. Do you want to connect to the One who is faithful to heal?
Then start by surrounding yourself with his life-giving Word. Get the Nourishing Your Heart E-book today. It is a free resource from Treasured Ministries that walks you through each step of the Nourish Bible Study Method and shows you how to rely on the Holy Spirit for healing.