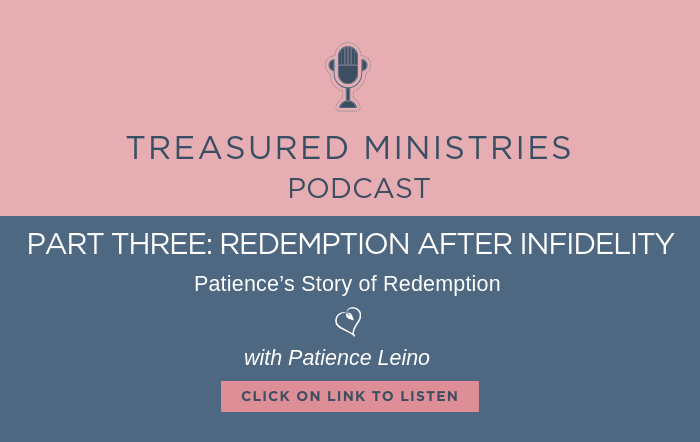 Infidelity not only interrupts marriages but it seeps into every area of our lives including our future hopes and dreams. Often women are left to carry the weight of the consequences of a husband who has decided to break his covenant of marriage. But remember this, God is our perfect provider, and he will take care of you in such a way that the ashes of adultery can turn into beautiful blessings. Ashes to beauty.
That's Patience Leino's story.
Here is what she experienced, "In my past season of pain, God planted seeds of provision for a need I could not yet see." You are not alone! Listen to Patience's story and be inspired as we wrap up our three-part podcast series Redemption After Adultery. To connect with Patience find her links below. We have also included the scriptures and worship songs she referenced. 
Website: http://www.patienceleino.com 
Verses: (mentioned in podcast) 
Romans 12:9-21  
Deuteronomy 8:2-3  
Psalm 27:14  
Psalm 46:1-2   
Isaiah 41:10   
Isaiah 43:1-3a, 4a, 5a   
Isaiah 51:3   
Isaiah 54:4-10   
Worship albums: 
Battles (Rita Springer) 

 

We Will Not Be Shaken (Bethel)

 

Miracle Or Not (Alisa Turner) 

 

Songs: Not For A Moment, Spirit Of The Living God (Meredith Andrews)

 

Song: Diamonds (Johnnyswim)

 

Songs: Prince Of Peace, Even When It Hurts, Here Now, Stay & Wait (Hillsong United)

 

Song: Holding Us (Josh Via)

 

Song: Faithful Til The End (Hannah & Paul McClure) 

 

Song: Jesus Is Better (Aaron Ivey)
Podcast: Play in new window