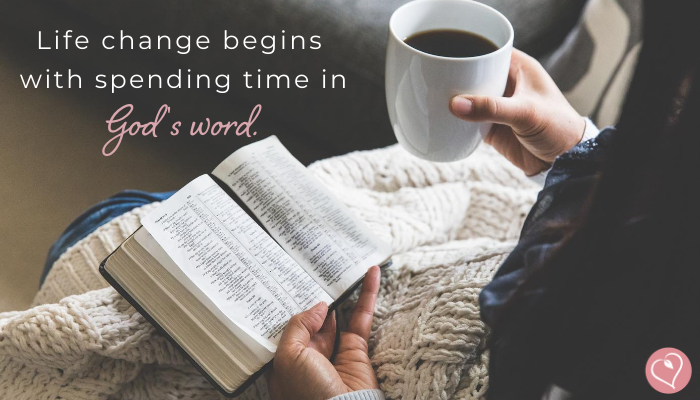 How to Change Your Life in Just Five Minutes a Day.
Habits tend to stick with us—whether they are productive or destructive. Those habits are often formed from the circumstances of our lives. Through past hurt and pain, we find ways to cope that begin to write a different story on our hearts and a habit is formed.
The past can lead us to believe there is no true habit that can unlock the freedom we long for— the freedom that releases blessing and purpose into our lives.
Developing habits that change our lives for the good is something we all seek. No one can argue that when we feel confident, courageous, and capable, it is because somewhere in our souls we've connected with something—or someone—that gave us purpose.
Treasured One, the enemy of your soul wants to keep the key that unlocks a life-changing habit hidden from you. He uses distractions all around us so that we can't see the treasure that is placed before us—God's word. He knows if you connect with the One who gives you purpose, your life will be forever changed.
Get your FREE Ebook: Break Free from Your Past with Biblical Meditation
Why Biblical Meditation is a Life-Changing Habit
The words that God has written in your story have been specifically chosen just for you. He wants to reveal them to you as you connect with Jesus. But too often the enemy tries to use the dust of your past to cover up the treasure God has waiting for you.
The words life speaks to us are like dust that can cover truth for a time. If the dust becomes too thick, then we can't see the gem that lies beneath.
But once you know the gem is there, and you have the tools to start clearing the dust away, the brilliant and bold beauty of life-changing truth begins to shine through.
"Make them holy by your truth; teach them your word, which is truth."—John 17:17
Biblical meditation is a tool that can clear the dust away so that God's truth can shine so that you can see clearly and confidently and move forward to become all God has created you to be.
Get your FREE eBook: Break Free from Your Past with Biblical Meditation
As women, we hear words all the time that are not a reflection of our true identity. Maybe people in our lives have assigned words to us, or perhaps we've unintentionally given them to ourselves.
In the process, others have written our story. These hurtful words are like keys that lock up the true you—who you were created to be—and you cry out to connect with the One who can set you free.
You might think the words that have been spoken into your life long ago don't matter much today. But those words are often the lens from which we view and navigate the life we live.
"Gentle words bring life and health; a deceitful tongue crushes the spirit."—Proverbs 15:4
Words link us to the source from which they come. The words we allow to influence us often determine our actions and responses. When painful words have taken up residence in your soul, it takes a powerful key to unlock truth that connects you to the eternal life-source—Jesus.
"For the word of God is alive and powerful. It is sharper than the sharpest two-edged sword, cutting between soul and spirit, between joint and marrow. It exposes our innermost thoughts and desires."—Hebrews 4:12
God's word is the only key that is powerful and precise enough to begin to split apart the soul hurts from our past from the eternal truth that comes with a promise.
"'For I know the plans I have for you' declares the Lord, 'plans to prosper you and not to harm you, plans to give you hope and a future.'"—Jeremiah 29:11
Our souls need to be nourished by the gentle and loving words of Jesus. His words invite us into His presence, sets us free, unlocks our purpose, and rewrites our story.
"So the Word became human and made his home among us. He was full of unfailing love and faithfulness."—John 1:14
When His Word is used to renew your mind every day, it keeps you connected to the abiding love of Jesus, moment by moment. Biblical meditation is God's prescription to renew your mind. When you change your thinking, you change your life.
Biblical Meditation is the Key to Freedom
For many years I gave others permission to shape my identity through their words, leaving me with a false impression of myself, imprisoned by lies, codependent, driven by the approval of others and filled with anxiety. This led to some unhealthy choices.
Although I was deep in Bible study, I shied away from biblical meditation.
How could just five minutes a day focusing on one verse heal me?

Isn't that a New Age thing?
I heard a lot more about quiet time and Bible studies but nothing on biblical meditation.
But when I began to put God's prescription of renewing my mind into practice, and starting my quiet time meditating on God's word for just five minutes, the results were incredible.
The profound shift I experienced from biblical meditation is exactly why I created this eBook: Break Free from Your Past with Biblical Meditation. Are you ready to gain a practical method to put the life-changing discipline of biblical meditation into your daily routine to change the way you think and live?
Get your FREE eBook: Break Free from Your Past with Biblical Meditation
Discover God's Prescription to Renew Your Mind
Sometimes, starting something new can feel overwhelming and unachievable. Many women want to change their thinking patterns, and agree with the concept but are not sure where to start. This eBook is designed to be a guide that will lead you step-by step.
When you download our FREE eBook Break Free from Your Past with Biblical Meditation you will:
Find real hope for anxiety, fear, worry, and insecurity as you understand what biblical meditation is and why this divine discipline is critical for freedom from emotional strongholds.
Surrender your worries and cares to God as you discover how to practice biblical meditation step-by-step.
Gain access to three doable, practical step-by-step action plans to help you start cultivating a daily habit of renewing your mind through biblical meditation. Videos that accompany each action plan for clarity and success to establish your new habit.
As you develop a daily habit of spending five-minutes of meditating on God's word, you'll notice something begin to take place…
In times of insecurity, the Holy Spirit will reveal God's voice to you so that you'll know what steps to take.
In times of fear, you'll be able to pause and respond out of a place of peace and love because you remember who you are in Christ.
In times of haste, you'll be able to renew your mind with His promises that calm and nourish your soul.
Get your FREE eBook: Break Free from Your Past with Biblical Meditation
Experience God's Promises and Peace
Just before Joshua led the Israelites into battle after battle to secure their Promised Land, God told him to meditate on the word day and night to find success.
"Keep this Book of the Law always on your lips; meditate on it day and night, so that you may be careful to do everything written in it. Then you will be prosperous and successful." —Joshua 1:8
Treasured One, with any battle you face – especially the battle in your thought life – a daily habit of biblical meditation is an essential key to victory.
As you develop a new habit of renewing your mind in God's word, you will naturally begin to walk with confidence, courage, direction, and purpose. Biblical meditation is God's remedy to intercept insecurity with faith by building new pathways of thinking.
Remember that the enemy of your soul has a daily habit too. He wants to defeat you. He loves to battle by throwing lies your way, inside your thinking, on a daily basis.
But now is the time to create a new five-minute daily habit that will keep our faith strong! Let's step forward boldly to live out our authentic identities and leave blessings in our wake. Today is the day you make a declaration against the enemy and draw a line in the sand. It's time to join with Jesus, take up your sword each and every day through biblical meditation to walk in victory, and become all God has created you to be (Ephesians 6:17).
Get your FREE eBook: Break Free from Your Past with Biblical Meditation
Take that step of faith today.
Fill out the form below to claim your FREE Break Free from Your Past with Biblical Meditation eBook and discover the five-minute habit that will change your life.